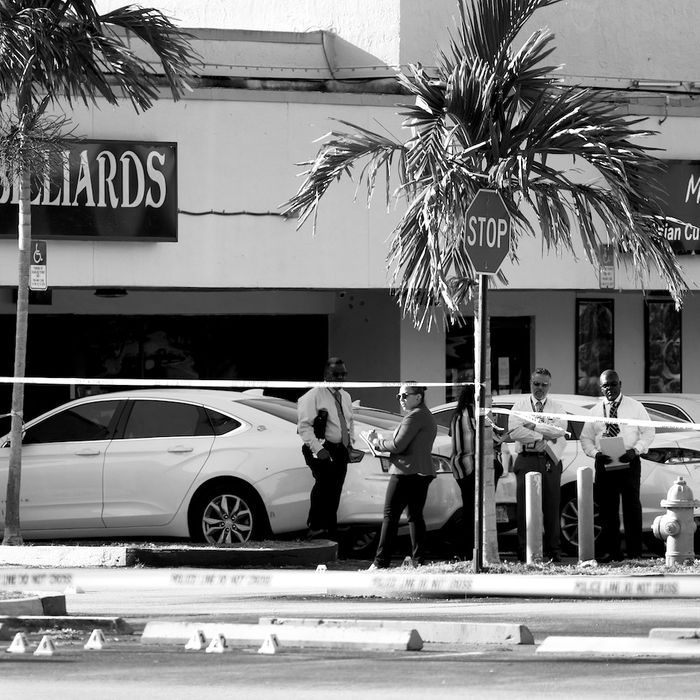 The Hialeah banquet hall where 20 were injured and two were killed in a mass shooting on May 30, 2021.
Photo: Joe Raedle/Getty Images
At least two people died and between 20 and 25 people were injured in Hialeah, Florida, early Sunday morning, when a trio of shooters, allegedly armed with assault rifles and handguns, pulled up to the El Mula Banquet Hall, the Miami Herald reports. According to the Herald, the space had been rented for a concert: The shooters are believed to have opened fire on the crowd standing outside, then sped away from the scene. Ambulances reportedly transported eight of the wounded victims to the hospital, while at least 12 drove themselves. One person was said to be in critical condition as of Sunday afternoon.
No arrests have yet been made in the case, although Miami-Dade Police Department director Alfredo "Freddy" Ramirez III described the shooting as "targeted" in a tweet. "These are cold-blooded murderers that shot indiscriminately into a crowd," he said. "My deepest condolences to the family of the victims."
Speaking to a local NBC affiliate, Angelica Green, the mother of one of the victims, recalled receiving a call from her son sometime after 12:30 a.m., when he was en route to the hospital. "He called us frantic, telling us he had been shot, that it hurts, it hurts, and that he loves us and wants us to know. My husband is like 'no stay with us, stay with us.' We hop in the car and we're talking to him to keep him alert."
According to the Herald, Sunday's shooting was the second reported in South Florida in two days: On Friday night, a gunman killed one person and wounded six more in Miami's Wynwood neighborhood. Addressing that incident, Miami police chief Art Acevedo called gun violence "a public-health epidemic" in a tweet, and indeed, the first 132 days of 2021 reportedly saw at least 200 mass shootings nationwide.
In his own tweet, Florida governor Ron DeSantis called for "justice" served on the shooters to be "swift & severe," yet earlier this month, DeSantis signed legislation broadening a 2011 measure that bans local governments from imposing gun regulations that go beyond state law. In an interview on CBS Face the Nation on Sunday, Acevedo called for tighter restrictions. "It's just an indication of the problem we have with the scourge of gun violence in this country, that we have to do much more at the federal level to stop," he said. "Because without legislation … we're never going to get through this summer without much more death and destruction."