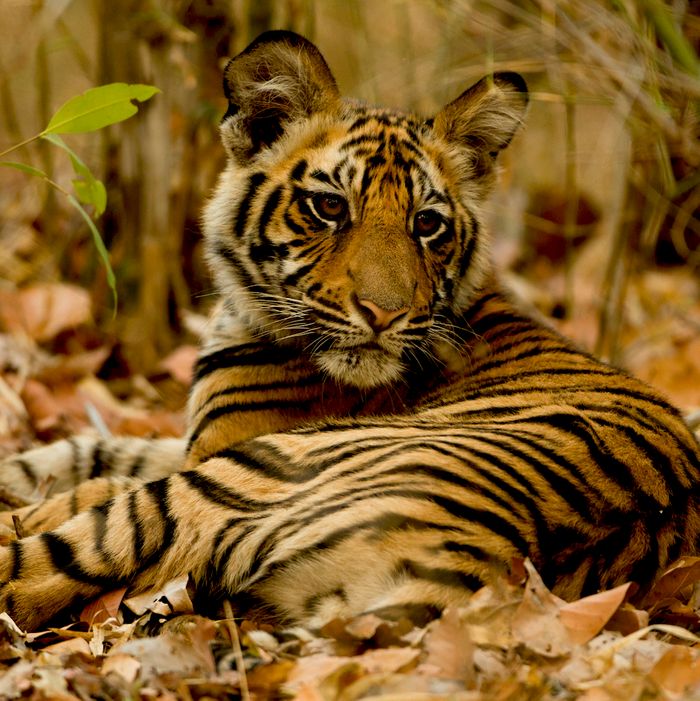 A young Bengal tiger (not the fugitive in question).
Photo: Joe McDonald/Getty Images
After an impressive week spent being a fugitive from the law, Houston's missing tiger is now in the custody of a Texas animal sanctuary. Per ABC News, nine-month-old India, a playful Bengal who "already weighs 175 pounds," will take up residence on a half-acre plot at the at the Cleveland Amory Black Beauty Ranch. This is reportedly "a world-renowned animal sanctuary," and its senior director, Noelle Almrud, said staff are hoping for "full and legal custody of India so that he can live out his life here."
"Black Beauty Ranch will provide safe sanctuary for him and give him a proper diet, enrichment, an expansive naturally wooded habitat where he can safely roam," Almrud said in a statement, "and will provide everything else he needs to be the healthy wild tiger he deserves to be."
India made his first public appearance last Sunday, when he reportedly climbed over the fence around his West Houston home and was spotted lounging on the neighbors' lawns. Many of these neighbors were surprised to learn they lived next to a tiger, and started posting about it online. Their content caught the attention of Houston police, but when officers showed up to investigate, they saw India's alleged owner — believed to be Victor Hugo Cuevas — packing him into a Jeep and speeding away. Police arrested Cuevas on Monday night, and charged him with evading arrest, a felony. While his attorney has denied that Cuevas owned the big cat, tiger possession amounts to a municipal violation in Houston, and carries a fine of up to $500.
Despite the arrest, law enforcement would spend the next week in the dark as to the tiger's whereabouts. But on Saturday night, Gia Cuevas — Victor's wife — turned the animals over to authorities, reportedly admitting that she and her husband were the owners. (Before then, she had apparently told police that the couple looked after the tiger only on occasion; Cuevas's attorney maintains the tiger does not belong to his client.) Anyway, according to ABC, Gia brought India to BARC Houston, the city's animal shelter. He was transferred to the sanctuary earlier today, and will remain in quarantine for another 30 days. According to Almrud, his new home will have a pool, trees, and a platform for his enjoyment, and he only has to hang out with the other tigers if he wants to. We are very happy for the tiger, and wish him all the best.