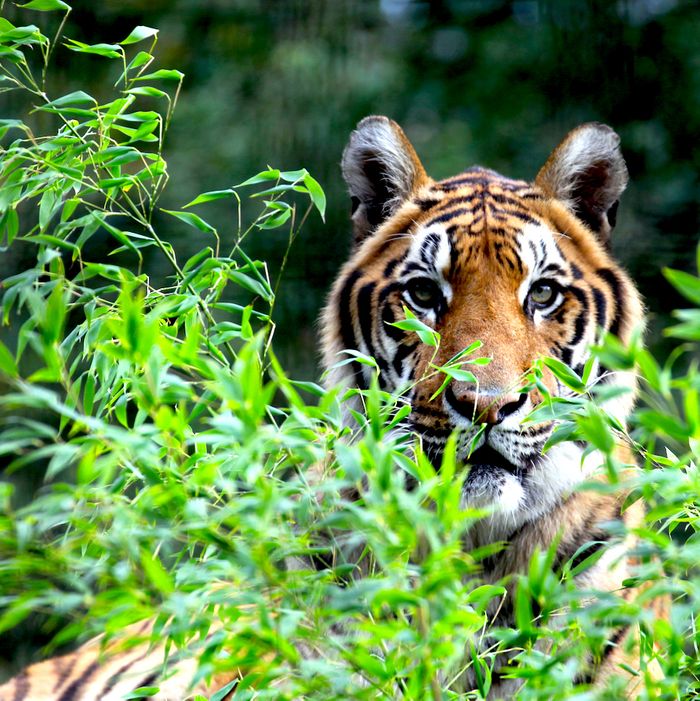 Not this tiger specifically, but you know.
Photo: Photographer: Jim Cook/Getty Images
A fugitive Bengal tiger in Houston has now spent nearly a week on the lam, which may be disquieting news for residents. Fair! But at the same time, six days is a long time to dodge the law enforcement officers on your tail, particularly when you are a large and eye-catching animal not often seen roaming the streets of Houston. A little scary, a little impressive.
The big cat, a nine-month-old male named India, was last seen on Sunday in the back of a white Jeep, speeding away from a west Houston home. Jose Ramos, one of the tiger's neighbors on Ivy Wall Drive, told CNN that when he spotted the big cat lounging on his lawn last weekend, "I had to pinch myself." Ramos said he had no idea he lived next to a tiger, and snapped some pics to share with the neighborhood email forum. An off-duty deputy who lives in the area apparently saw the photos, and showed up with his gun. According to the Guardian, that's when a man — 26-year-old Victor Hugo Cuevas — came outside and corralled the tiger indoors, the deputy shouting at him to "get the fuck back inside" and to "fuck you and your fucking tiger." Ramos noted that the tiger's caretaker "sounded very stressed out, very anguished by the mere fact that the deputy was aiming at the tiger and ready to shoot him."
Houston police then arrived on the scene, just as the tiger's custodian packed it into the car and took off. "There was a brief pursuit, and the man got away with the tiger," Commander Ron Borza said at a news conference on Monday. That night, the Houston Police Department tweeted that Cuevas had been arrested and charged with evading arrest, a felony. (In Houston, tiger possession is a municipal violation, carrying a fine of up to $500.)
Meanwhile, the tiger — which Cuevas's attorney, Michael Elliot, maintains does not belong to his client — continues to elude authorities. "We want the public's help in trying to find India and trying to find the owner of the cat," Elliott said on Thursday. "We want to make sure that the cat is safe and taken to a nice place." Cannot agree more!
This post has been updated.