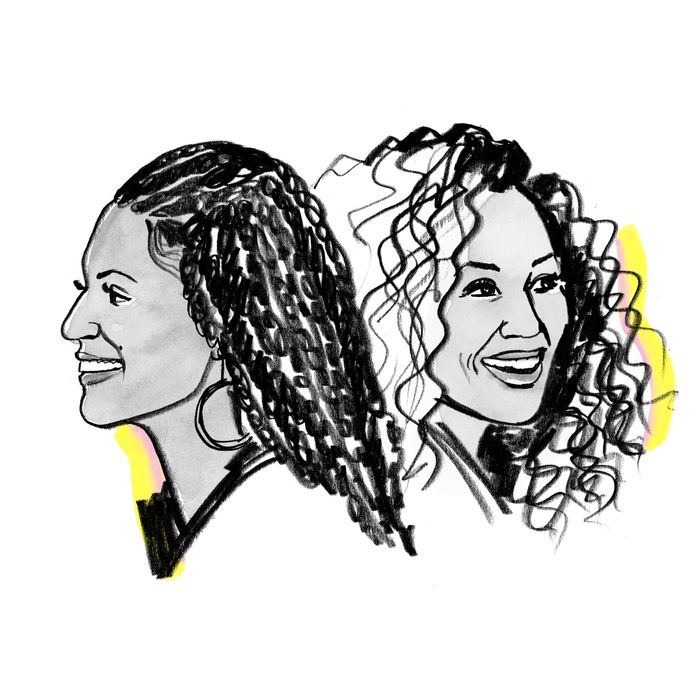 Illustration: Lauren Tamaki
Though Robin and Andréa McBride didn't meet until their young-adult years, the siblings found that they already shared not only a biological background, but a deep love of wine and entrepreneurship. In 2010, they boldly disrupted a largely white- and male-dominated industry by launching their own business, McBride Sisters Wine Company. Their collections, including Black Girl Magic and She Can wines, are available for purchase throughout the nation. But their commitments to entrepreneurship and creating pathways for other Black women in food and wine? That's where they find the real joy. Robin and Andréa both live in the San Francisco Bay Area and are currently accepting applications for their She Can Professional Development Fund.
On their morning routines:
Robin: I try to get up early enough to give myself time to have my morning coffee, usually between 4:30 and 5:30. I get my thoughts together and take my vitamins so they kick in by the time everyone starts their work for the day. I also try to do a little bit of non-work-related reading. I start my workday a little bit ahead of our normal business hours. I find that helps me to really wake up and get myself energized and feel a little bit centered before I start my work day.
Andréa: My sister Robin and I have a coffee ritual in the morning. I don't get up as early as Robin does; [it's] usually around 6. I try to have my coffee and jump on the Peloton, and then usually by 7:30, my daughter wakes up. She's 26 months. I'll hang out with her in the morning until we have breakfast. Usually 8:30 starts the day.
On managing priorities during a (typical) workday:
Andréa: It really spins, and that's why we love it. We could be thinking about how we're going to elevate "her" [our customer's] wine experience in a new way, trying to combine her life and mood with wine in a way that hasn't been done before. We're often doing wine tastings, or we could be doing a really fun Instagram Live with an awesome woman chef that we know, and having a chance to catch up, drink, do some wine and food pairings with some of the recipes that we've teamed up on. We might be talking to retailers about how our wines are doing in stores. Just kind of day-to-day blocking and tackling the business. It's really all over the place, but I think that's probably what we enjoy the most: the diversity of what we're able to do.
Robin: We love the excitement, and we love the chaos, if we're being honest. Obviously our business is at a stage where we can't do everything all the time. We've very much prioritized what lines up to our overall goals. The main priority being elevating "her" [the customer's] wine experience. So wherever Andréa and I can be impactful with regard to the company's efforts and strategic about making sure that our customer and the wine drinker really love the experience of drinking our wines.
On the best parts of the job:
Robin: I think my favorite part is that as innovators and thinkers within our industry, we have the opportunity to speak to a whole new demographic of wine drinkers and consumers and women and people of color in a way that's really different. I love every opportunity that we have to be in a space that wine hasn't traditionally occupied, whether that's in media, in lifestyle, in culture, or however we define that. Whenever we get to do something that's out of the box for a wine company, that gets me really excited. Whenever we're knocking down those doors and breaking through those kinds of stereotypes and traditions, that really gets me excited, and I look forward to every opportunity that we have to do that.
Andréa: For me, the thing I probably love the most is helping people in their discovery of wine and making it attainable. This industry is super–old school, it's super-homogenous, so I take a lot of joy in waking up every morning filled with purpose to transform this industry on the inside and make it feel more welcoming and more attainable for everybody — not just the select few.
On juggling family and business:
Andréa: It's not really hard for us that our business and our family are intertwined; it just comes with the territory. I think because we didn't live with each other [early in life], and because we met under such unique circumstances, we really, truly treasure our relationship. There's nothing that would ever come between us, ever. It's kind of unspoken, sort of an understanding.
Our personalities and values that we're able to bring to the vision and mission of the company are very complementary. When it comes to our business, we really are two puzzle pieces.
Robin: Like Andréa said, because we didn't have that early-in-life relationship, we don't have a dynamic that maybe a lot of siblings have. We had a fresh start, a clean slate. We didn't have a whole lot of baggage to deal with, and an important aspect of our relationship is respect. Because we are different people, we have different things that are important to each of us. Even though I may not think the same way that Andréa does about something, I honor her opinion and I respect where she's coming from. So I will support her in that, and I'll back her up in that, and she does the same for me. Our overall goals and mission are the same. What's key is that we make sure we're united in how we support each other, we're united in how we interact internally and externally with our company, and that we go to bat for each other. We have the best interests of the business in mind, and we have the best interests of each other in mind.
On self-doubt:
Robin: I can't say that we have ever [experienced that]. First of all, we're very optimistic. We have always had a clear vision and goals. So if things don't work out, or somebody's not on board with our idea, we assess, we refine, and we keep moving. I don't think that we ever made room for any type of self-doubt. I think it has always been more about us really perfecting, and honing, our expertise and our ability to achieve these goals, and we've never really perceived anything that we've experienced as our lack of ability or lack of achievability of our goals. It has really been just about perfecting how we go about doing it.
Andréa: We see our goals really clearly. Because it seemed so obvious to us — we were really confident. And most importantly, we have the competence to be able to back it up. So I think that we never experience self-doubt. If anything, I would say it was more frustration, because maybe things weren't happening fast enough. And then learning from those situations, realizing, "Okay, we need to slow down and educate people here and bring them in and build allies so that they can see it too." Because not everybody is going to see it as you do.
On self-care: 
Robin: A key thing that Andréa and I had to reckon with is that we have to carve out time for ourselves, for our personal lives, for our family. In the last several years or so, we've made a concerted effort to take care of ourselves, to make sure that we're being mindful to plan in time for the things outside of work that make us happy. That kind of sounds like a no-brainer, but once you're an entrepreneur, and when you're in a really fast-paced environment where you're being innovative, those things don't naturally come to the forefront. For me, there's my own downtime and alone time. It can be something as simple as getting my nails done, taking a bath, getting some bath bombs that I like. I have spa Sundays now, which I never had before, and I so look forward to it. But other than that, it's important for me to be outdoors getting fresh air, like taking a walk, or spending time in the garden or on the deck. Being outside in Mother Nature is super-important to me; it gives me life to reconnect with dirt and flowers and plants. And then making sure that I'm enjoying my family and my kids and being really intentional about it, because otherwise your work life will completely engulf all of your time. Those moments become really special.
Andréa: For me, self-care Sunday is wash day, face mask, glass of wine. And my exercise routine? Lifting the glass from the table.
On the best spots in the neighborhood:
Andréa: Our "everybody knows your name" kind of place is called Barcha. It's just an amazing spot with really good food, and they've got great wines on the list, and a great brunch. It's one of those places … you can't put your finger on it, but it's like you always feel like you're at home. It's my go-to spot in San Francisco.
On what they'd tell the next generation of wine entrepreneurs: 
Andréa: We would tell them that on May 3, we launched the third iteration of our She Can Professional Development Fund. The focus this year will be on industries that have a really big gender gap and where women and people of color are underrepresented: wine and spirits, hospitality, and finance. Fifty percent of our awards and scholarships this year will be going to women who have graduated from HBCUs. The reality is when [companies] look at profitability, when they look at consciousness around social issues and the environment, the more diverse companies are, the better that they perform. And we think — obviously — for humanity, that's a good thing.
Robin: When we started all those many years ago, we had a really hard time finding women and people of color in our industry we could seek out for advice. Something that we feel is really, really important is getting mentorship, making those connections, getting advice from people who have experienced situations similar to yours. And we started the fund and we started the sisterhood of She Can to be able to provide just that.
On winding down:  
Andréa and Robin: I bet you can guess. This is a business, this is our passion, and our ritual is a wine-down. Wine is this amazing combination of history and culture and optimism in a glass. For us both, it's what brought us together, it's what we're drawn to, and it's quite simply our end-of-the-day ritual.