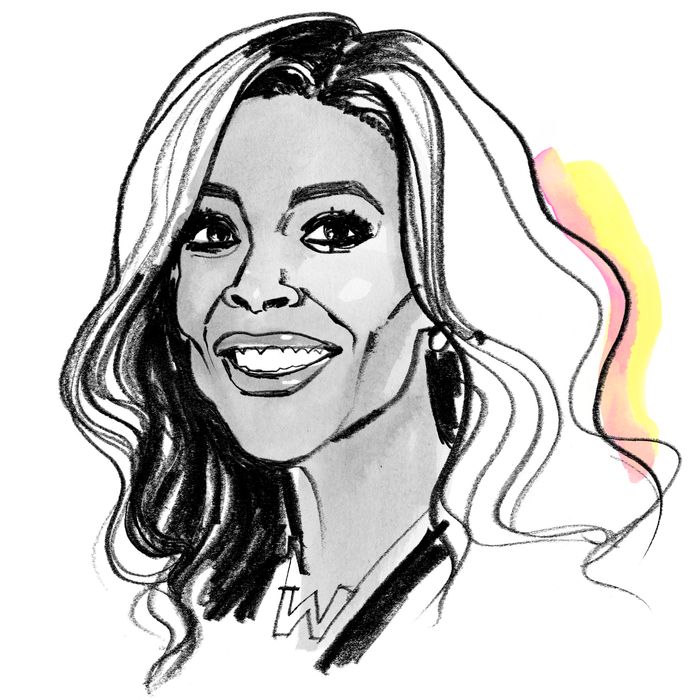 Illustration: Lauren Tamaki
At this point, is there anything Wendy Williams hasn't done? She's broken the news, been the news, released multiple product lines, had a street named after her in New Jersey, written books, and been in movies. And a majority of this is on top of her nationally syndicated talk show, The Wendy Williams Show, which started its 12th season last fall. And still she managed to have a couple firsts in 2021 — Lifetime aired both a documentary on Williams's life, Wendy Williams: What a Mess, and one of their infamous biopics, Wendy Williams: The Movie, both of which she produced in January. And as of today, she has her own wax figure at Madame Tussauds New York. Williams lives in New York City with her two cats, Chitchat and Myway. Here's how she gets it done. 
On her morning routine: 
I like to wake up at least a half hour earlier than I have to get out of bed so I can watch TV. In a perfect world, I'm awake an hour before [I have to get up]. I like to watch both local and national news, and my cats are there. I text my assistant about what I would like for breakfast. If I don't text her at all, then she knows she doesn't have to text me. She knows I'll text what I want. I used to talk more than texting, but for my team to keep my day rolling smoothly, expect a text. Then around a half hour before I'm supposed to leave, that's when I scramble to the shower. I have a routine and fortunately I don't have to leave the house with perfect hair or perfect makeup or anything like that. I have a uniform, which is a pair of black leggings and a black turtleneck or V-neck. I throw on my sneakers and I hit the ground running.
I get in the car at 7:15 a.m. or 7:30 at the very latest. I have a moment when I get in my office, take my leggings and stuff off, and put on my underpinnings. I no longer go through wardrobe the way I used to. I'd argue about this or they'd argue with me about that.
I'm always in the makeup chair by eight o'clock in the morning, and Merrell has my makeup done by 8:19 a.m. That's how well he knows my face. My manager Bernie and I meet from 8:30 to 8:45 a.m., where I finish whatever breakfast I left on the table, and Bernie knows to come in and have everything lined up. It's fast and efficient and that's how we want it around here. And that makes it easier for all of us.
On trusting the people you work with: 
For wardrobe, I just learned if I keep my weight within the range that I keep it, I no longer have to go to wardrobe. Back in the day, I would have to shop with wardrobe. I thought that that was just what everybody did, but now I see that you can make your life a lot easier if you trust the people that you've got on your team. Jasmine does my wigs and I trust that they [Jasmine and Willie, who does Williams's wardrobe] meet together about which wig would look the best with which outfit. And Merrell has been doing makeup for me since the show started, so he knows my face.
I try to placate Willie even if I might not like my outfit that morning. And then one day he may say, "Okay, you can wear a belt" and then he'll say "Would you please remove your necklace? It's distracting." And sometimes I'll say no and sometimes I'll say yes, but either way, it's just trusting the people around you.
On what she still wants to accomplish:
I would love to get back in the classroom, not as a student, but as a professor. I graduated with a degree in communication from Northeastern University, but back then that major wasn't as big as it is now. I wanted to be a radio DJ, and nobody really understood that. None of my professors had ever reached the magnitude or even a quarter of the magnitude that I have right now. But they were the ones being paid to teach me in the classroom. I would love to join a communications department someplace in the city and really be in there and be the one course the kids would be delighted to go to. And I'd tell them the score. It's hard to achieve. Getting there is very difficult. Maintaining is very difficult. Either you have it or you don't.
On scheduling free time: 
I talk to my father every day, every other day. And I make time to talk to my sister. Talking to my son every day is very important, because he's 20 years old. He's entering his senior year in Miami and he's going through a lot, you know? It's very important that he knows that mom's good, because he knows that the city will eat you alive. He also knows that I'm in the swing of dating and socializing. He's not a babysitter, but he is somebody that I do appreciate saying, you know, "What's going on?" "All right, mom, have a good time." Simple things like that matter.
On her cats, Chitchat and Myway: 
They're very soothing. Pets really are the eighth wonder of the world. I've had them for about two years. They are rescue cats. I wanted cats born from the same litter. I didn't want them to already be named and I didn't want them to already belong to somebody where they developed bad habits. Once I was settled in my apartment, I loved being here, but I'd been having a tough time finding the perfect cats. I wanted a sweet family. The three of us against the world.
This really nice lady was watching the show on the day that I was saying that I was having a tough time and she got in contact with the show. My assistant came to me and she said, "There's this lady who has your cats, and they're in the shelter. They don't socialize with any other cats. They eat and drink out of the same bowls. They bundle together at night." So I asked, "can you meet me at my apartment by like one o'clock?" I had enough time to stop at Petco and buy some litter, grabbing stuff off the shelves, scrambling around like a new mom. And she showed up and I fell in love with them instantly. I've trained them to know when I say "GIRLS!"
On deciding to make her Lifetime documentary: 
When the Lifetime project came along, that was the perfect opportunity to tell my story and tell it really good. I really loved doing the documentary. [The process] began about two years ago. And so that's why when it opens and you just see me crying — If I could do the documentary again, that's not how I'd begin, because that's not who I am. But I wanted people to understand the process of getting through it. It's very natural for me to tell people my truth. People who watch the show, they often question why my opinion is this or that. And it's only a one-hour show, so I don't have time to talk about me. I got to get to the next story I've got to do. And then there's a guest coming up. Doing the documentary felt so natural. It's a great piece for my family legacy. My mom passed away, so it was wonderful seeing her, saluting me, in her final time. I would never do another documentary about my life. I've already set you up for exactly who I am.