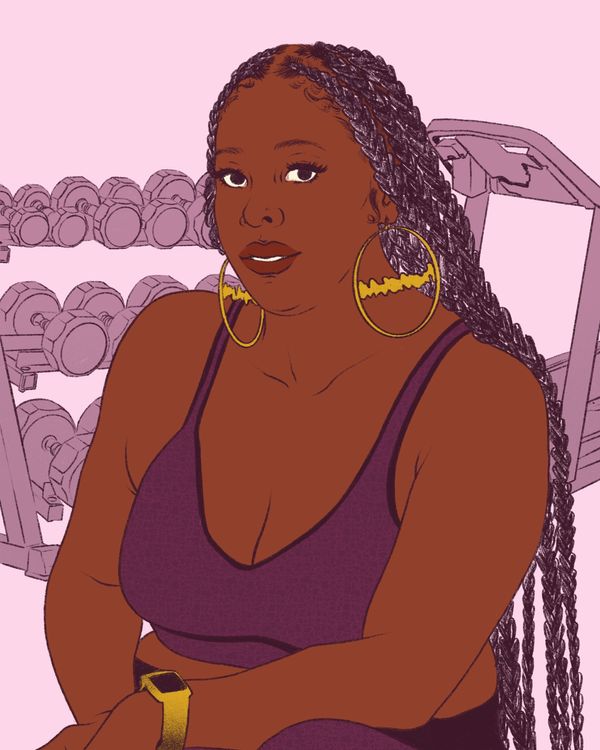 Illustration: Rachelle Baker
Over the course of three months last summer, Whitney Blaylock went from daydreaming about how much she would like to work out without gazing men around to opening up her own women-only gym. Blaylock, a veteran small-business owner in Philadelphia (she started a day-care center in 2013), launched Women's World Gym at a whiplash pace. The gym opened in early September, just a couple of months after the city permitted fitness centers to reopen with strict social-distancing protocols. When Blaylock and I spoke just after her gym debuted, she was confident that she could adhere to COVID safety measures since she had already followed them thoroughly at her day-care centers. 
Come opening day, everything about Blaylock's new fitness center — Barbie-pink treadmills, carnation-pink barbells, electric-pink graffiti sprayed by Cardi B's beloved designer Iris Bonner — suited her exact vision of peppy, girlish, comfortable fun. Blaylock has seen her idea thrive not just as a place to work out but as a home away from home where members can chat, listen to music, and relax. Blaylock spoke to the Cut about building excitement, finding collaborators, and her strong adherence to a September launch. 
When did you first have the idea to open a women-only gym? 
The idea came when I wanted to take a picture after I worked out at the gym. I went up to the mirror and took my waist trainer off to just take a picture — then comes this guy and gets right on the other treadmill. Now, I don't want to take my waist trainer off! I just feel very uncomfortable. So I just start thinking, We need a gym just for us women, where we can just relax. We have so many things going on with our hair and our bodies; sometimes we're not comfortable in front of men. We come here to work out for our goals. We don't come here to look cute and prance around.
What kind of response did you get to this idea?
On my page on social media, I was just asking questions. One question I asked was "Are you comfortable working out in a gym in front of men?" And a lot of women were saying, "No. That's why I stay away from the gym. Men are trying to talk to me, they're gazing, they're lusting." And a lot of Muslim women said they can't work out in front of men. So right then and there, I thought, That is a good idea. I know I'm not the only one who feels like that. I'm going to go forward with opening up this gym. Even if I didn't get members, it was good for me so I could work out with my friends and my family. We could have a space.
How did your other business experience influence your gym? 
I have a day care I've had open for eight years [with two locations], so I know how to run businesses. The building we found for the gym has 15, 20 businesses there. There's a photographer as well as a makeup, lash, and hair place. This was ideal for me because I have to manage the entire property for my two day-care centers, so this was not a lot of weight on my shoulders. I don't have to take care of the front yard, the backyard.
This time, I knew what to look for in a building, what to negotiate with my lease, and how to network and market the business before you even open. That was one of the things I should have been doing before with the day care. I would just promote the gym every day: "It's coming soon! It's a space for women."
Three months seems like a very fast timeline for opening a gym!
It was!
Why did you want to open so quickly? Tell me about the timing. 
About May or June is when I had the idea, I found the building in July, and we opened in early September. That's very fast. But I wanted to open before September, when school starts. I learned that from the day care because we had turnovers [every September]. For a lot of us women, September is a time when you're planning how your schedule is going to be: I'm going to pick up my son at this time, I'm going to work out at this time. They get into routines.
What sacrifices did you have to make to start your business?
I have a son; he'll be 8 soon. He has diabetes. I can't just leave him with anyone because if you don't have the training to care for him, you can't care for him. I just brought my son along with me when I could. I enrolled him in another camp aside from my day care because when he's there, he just thinks he can do what he wants to do: This is my day care! I had to get him away from that, so I enrolled him at a YMCA.
What did you have to lose? 
Money was the only thing I had to lose. I was using my own money to fund this new business. That was the only thing I was putting up for the gym. Right now, we make just enough money to cover the expenses, the rent, things like that. I'm not paying myself.
I have savings. [However, to open the day care,] I did a lot of fundraisers. I used to cook and sell platters of food to run my business. I was working another job at the time as well, and all my paycheck went toward the day care.
What were some of your initial doubts — either about yourself or your business plan — that you had when starting the gym? 
Making sure I had the right equipment was one of my biggest fears because I'm not a trainer. I had my personal trainer come in and walk through the gym and tell me what I needed. And my best friend gave opinions. We work out every day together. She's been to various gyms, and she knows which equipment she wants. She was just saying that I needed to have all the equipment you need for your butt. [Laughs] She likes to work out her glutes.
Tell me about your aesthetic vision and how you made that happen. 
I wanted it to be very girly. I worked with [fashion designer] Iris Bonner. I told her that I wanted everything pink — and she has her brand, which is pretty much everything pink. I told her I just wanted words on the wall, positive affirmations that we can look at and say, I'm going to keep going.
A lot of things were out of stock due to COVID. Ultimately, I settled. Anything that's not pink, it's because they didn't have it.
When I get feedback about how beautiful the gym is, how comfortable people are, that they're going to tell their friends about the gym — that makes me feel great. They're connected to the gym. They can take time, they hang out. We let them link their phones to the speakers and play music. Sometimes they won't even be working out. They come and they chill and they have conversations. That's how, through word of mouth, we've been able to operate and pay the bills and keep the lights on.
How does it feel to think of yourself as the head of a business?
It felt good [to own my own business]. I like helping people, so I don't feel like I'm superior to anyone or I'm the boss. I don't have those feelings.
I understand what people want and what people need. I'm all about providing need-based businesses. I love to have something people need that's going to keep them coming back.
What do you do to combat the stress and potential burnout of running a business? How did you learn to do that? 
Early, I just felt like, Well, I have to teach you how to do it, then I have to train you how to do it, then I have to walk you through it, and I still have to follow up, so I might as well do it myself. But I had to get out of that mindset if I wanted to grow. I had to train people and give them space to make a [mistake] and fix it but hold them accountable as well.
I have one full-time trainer, Brandis. We pretty much believe that God sent her to us, because she was looking for a gym to train in and she stumbled across the gym page and she was like, I know Whitney. Her love of fitness is unmatched. She's there pretty much all day: training and working out and helping women be the best versions of themselves.
Especially with having Brandis there, I don't go to the gym as often. I know she's there; she's running it properly. So I'm able to step back from the gym and do all the other things I need to do. I learned from my other business to try to build a team and try to delegate jobs. I learned that I can't do everything myself.