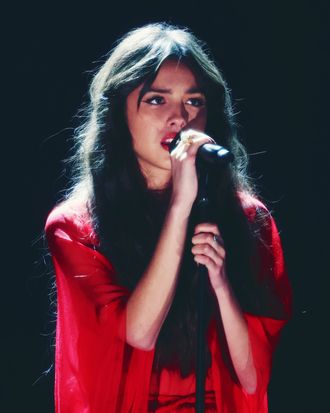 Should I get curtain bangs, haha, but really?
Photo: JMEnternational/JMEnternational for BRIT Awards
Like many other Sad Girls with Big Feelings who came of age at the same time as Taylor Swift, I went through a songwriting phase in high school. If you happen to be an old classmate who heard me plinking a guitar to any of the dozens of songs I put on Myspace or played in a church gym, no, you didn't.
Would I have crushed it as a Famous Teen? Absolutely, but that's neither here nor there, and it's not why I am before you today. I am here to talk about Olivia Rodrigo's debut album Sour and how it's going to make me forget I am an entire 30 years old.
As a grown woman with questionable taste and too much internet access, it's detrimental for me to know that some of Rodrigo's lyrics pull from real life. It would be embarrassing if I, say, took a deep dive into a Disney-induced love triangle that involves people who are younger than the kids I babysat are right now. It would hurt my feelings to know that I have a hoodie I got the same year Rodrigo's rumored-ex Joshua Bassett was born. It would be bad for me to start wearing that hoodie, right? What if I crop it though? Haha, just kidding … unless?
Given the visceral reaction I'm currently having — specifically to pop-punk-influenced songs like "brutal" and "jealousy, jealousy" — I cannot imagine the Problem™ I would have been had this album come out when I was 17. She screams! She swears! She says things like, "I can't even parallel park!" Me neither, Olivia! I am 30! I got my driver's license in 2006, but you're sorely mistaken if you don't think I belt "RED LIGHTS, STOP SIGNS" at my husband after two (2) glasses of wine. (No offense, Olivia, but I am married! I'm sorry!)
The album as a whole is making me ask questions like, Do you think I could pull off curtain bangs? and How is it possible that Olivia Rodrigo, who was born in 2003, is 18 years old when 2000 was only ten years ago? It's the reason I'm a Google away from finding out what the kid who had a locker next to me is up to now. I am knee-deep in secondhand heartbreak and am going to soak until I am pruny and my blood is made of Bath & Body Works Sweet Pea shower gel.
I am far from alone in Sour giving me feelings I aged out of over a decade ago. And I suppose that's kind of the point. Sour feels fresh and evergreen, playing into Sad Girl tropes in a way that seems specific without being overly saccharine. I haven't been 18 for a while now, but there are bits of the album that remind me of who I was and who I wanted to eventually be. One day, Olivia Rodrigo will be 30, and I hope, at that time, she feels the same combination of nostalgia and bittersweetness and levity I'm getting while listening to this album. It's a nice and unique bit of light among the heaviness of the world.
This album is going to wreak havoc on my geriatric-adjacent millennial body as I play it on repeat. And you know what? Good 4 me.