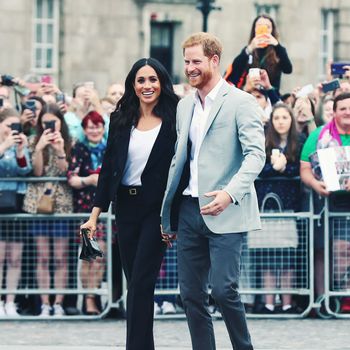 Meghan Markle and Prince Harry.
Photo: Gareth Fuller-Pool/Getty Images
If I were Prince Harry and my new girlfriend was coming to stay with me for the first time and it was up to me to pick a place to meet, I imagine I'd opt for a location that was, above all, relatively private: probably one of the firm's many castles, or if I were trying to seem more casual, perhaps a sprawling, quiet park. I would not, for example, agree to "a supermarket in London," which is apparently the location either Meghan or Harry suggested for a meetup early on in their relationship.
On a recent episode of Dax Shepard's podcast, Armchair Expert, Harry recounted this needlessly complex rendezvous with Meghan. As Harry tells it, the year was 2016, and he was at an undisclosed grocery store, in a city of nearly 9 million people, where he and Meghan had decided to meet. But, seeing as he is a recognizable prince and all, he had disguised himself with a masterful trick that Meghan would later borrow during her tenure as a royal: "I had a baseball cap on, looking down at the floor," he told Shepard, "trying to stay incognito." (Despite his best attempts at deception, Harry says he received "weird looks" and greetings from strangers.)
Meanwhile, presumably in an attempt to avoid being recognized together, which would have sent Britain's press into a frenzy, Harry says he and Meghan were "pretending we didn't know each other, texting each other from the other side of the aisles." And then there appears to have been some sort of misunderstanding. "I texted her saying, 'Is this the right one?'" Harry said, either in reference to an aisle or an item in the grocery store. "She said, 'No, you want parchment paper,' and I'm like, 'Where's the parchment paper?!'"
Given how things turned out for the couple, I assume they eventually found all their groceries and later reunited. Anyhow, I will spend the rest of my life wondering whether Meghan foolishly thought Prince Harry — a man and a royal — would have no trouble locating parchment paper in a bustling grocery store.