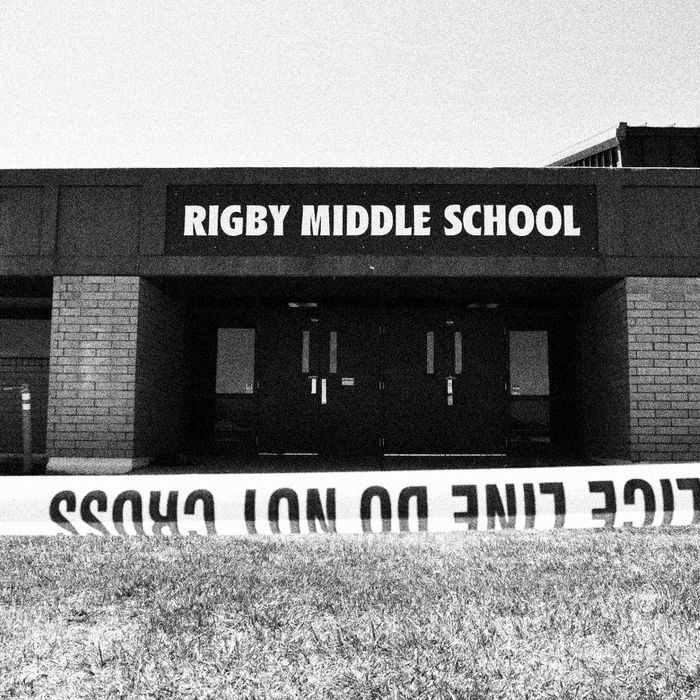 Rigby Middle School, where a sixth-grade girl shot two students and a custodian.
Photo: Natalie Behring/AP
A sixth-grade student opened fire in her Idaho middle school on Thursday, shooting two students and a custodian, according to authorities. All of the gunshot victims sustained non-life-threatening injuries and are expected to survive.
The shooting occurred around 9:15 a.m. on Thursday morning, when the student at Rigby Middle School in Rigby, Idaho, removed a handgun from her backpack and started shooting in the hallway, Jefferson County sheriff Steve Anderson said at a press conference. A teacher was able to disarm the girl, but not before gunfire struck three people, all of whom were shot in their limbs.
"Me and my classmate were just in class with our teacher — we were doing work — and then all of a sudden, here was a loud noise and then there were two more loud noises. Then there was screaming," Yandel Rodriguez, a 12-year-old student at the school, told AP News. "Our teacher went to check it out, and he found blood."
"I was really scared," sixth-grader Lucy Long told a local outlet. "I almost started crying, but I was trying to help my other friends that were crying feel better."
When police arrived at the scene, the students — who had been placed in lockdown in their classrooms — were escorted out of the building to be reunited with their parents, and the girl who fired the shots was taken into custody. Meanwhile, the victims were transported to Eastern Idaho Regional Medical Center, where the two students were held overnight.
While gun-related violence in schools has fallen amid the pandemic and shift to remote learning, this incident is the seventh school shooting this year, according to Education Week's tally. Authorities are trying to understand how the girl got ahold of a gun or what might've motivated her to open fire on her middle school. "We don't have a lot of details at this time of 'why,'" Anderson said at the conference, noting that authorities are "following all leads." Once the investigation is complete, Jefferson County prosecuting attorney Mark Taylor told reporters, the girl could face charges — possibly three counts of attempted murder.
"This is the worst nightmare a school district could ever face. We prepare for it," Jefferson School District superintendent Chad Martin said. "But you're never truly prepared."