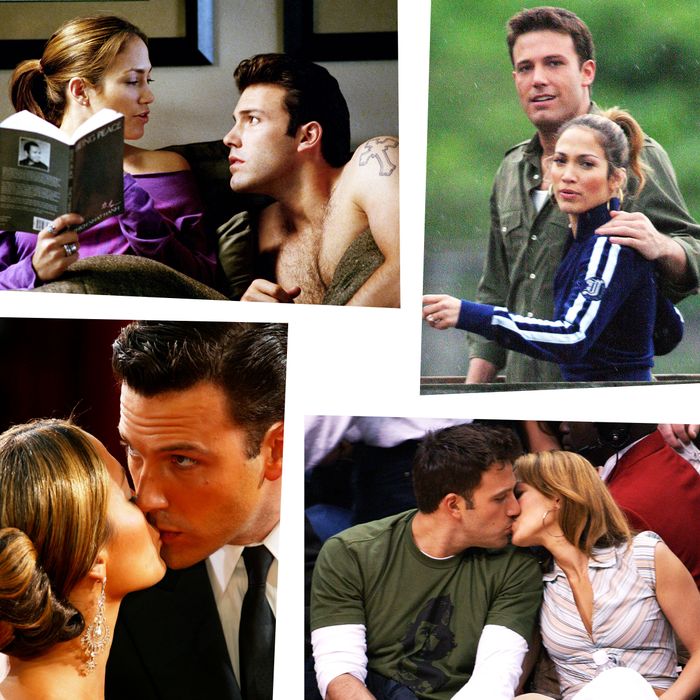 Photo-Illustration: by The Cut; Photos: Everett Collection, Getty Images
In April 2002, Ben Affleck took out half-page ads in Variety and The Hollywood Reporter to tell his industry peers how much he enjoyed working with Jennifer Lopez on Gigli. He spent at least $15,000 on the stunt and told reporters he did it to counter the narrative that Lopez was a diva. "I really liked working with her and have been so impressed with her acting skills," he said. "In a lot of ways it was in contrast to what some of my pre-conceptions were about Jennifer. I thought I'd write a paragraph saying what a professional, decent person I think she is and how kind she is."
We can't know if this move, specifically, was the one that worked. But a week after the ads ran, Affleck was cozying up to J.Lo at the opening of her parents' restaurant in Pasadena. By the summer, Lopez had filed for divorce from her second husband, of just nine months, Cris Judd, and she and Affleck were an item. Bennifer. Before the year was out, Affleck proposed with a $2.5 million, 6.1 carat pink diamond from Harry Winston that I'm sure you can still see in your mind; if not, I'm sure you can see it on a 2000s-nostalgia account on Instagram.
So perhaps it is not surprising that Affleck, now 48, has spent a considerable amount of time flattering Lopez, now 51, in the media lately. For the May issue of InStyle, which featured Lopez on the cover, he said his former fiancee was the hardest-working person he had ever met and accused her of finding the "fountain of youth." Again, who's to say what works and what doesn't work for J.Lo, but now the couple appears to be together again, 17 years after their relationship imploded in spectacular fashion in the tabloids.
When I saw the photos of them driving around a luxury resort in Montana — the same place Affleck has taken both the mother of his three children and a Playboy model he dated for two weeks in 2018 — my heart stopped. Naturally, sources connected to Affleck and Lopez have gone straight to the tabloids to explain how this divine reunion happened.
"Jennifer spent several days with Ben out of town," a source told People. "They have a strong connection. It's all been quick and intense, but Jennifer is happy."
According to E! News, "It's natural between them and the chemistry is unreal." TMZ claims that Affleck started sending "loving and longing" emails to Lopez back in February, when her engagement to former Yankee shortstop Alex Rodriguez was on its last legs. And now, Bennifer Part 2 is happening. Entertainment Tonight reports: "Ben is protective over J.Lo and they're trying to be as low key as possible."
I believe every word except that last part. Affleck and Lopez are not trying to be low-key, and that is what makes them perfect celebrities. They understand what the people want, and they deliver. Despite their past mistakes (some more consequential than others), they are willing to put themselves out there — to say to the public, Here I am, fresh out of a serious relationship, hooking up with my ex from 17 years ago. They should 100 percent get married, or at least pretend like they're going to get married. (Again.)
What makes this reunion so incredible is that we know how the story ends. Maybe you remember: In 2002, things were going great. There was Jen, wearing a baby-pink Juicy tracksuit, making out with Ben on a balcony in front of the paparazzi. There was Ben, caressing Jen's most famous asset on a yacht in the "Jenny From the Block" video. Individually, they were hot and talented, yet somehow together they were even better, shinier. Gigli bombed, but it was fine — it was the project that brought them together.
In the summer of 2003, a few months before their planned wedding in Santa Barbara, California, Lopez and Affleck told Dateline NBC that they were madly in love and wanted lots of little Ben and Jen Jrs. And then, the very same night that interview aired, Affleck paid an ill-fated visit to Brandi's Exotic Nightclub in Vancouver, Canada, while he was on location shooting Paycheck.
The National Enquirer got a stripper on the record, and everything pretty much disintegrated after that. Lopez made a point to go out dancing with friends in L.A. without her pink diamond. Affleck threatened to sue the tabloids. And then, the day before they were scheduled to wed, they released a statement announcing they were postponing the event due to excessive media attention. "We began to feel that the spirit of what should have been the happiest day of our lives could be compromised," they said. They never rescheduled, and by the beginning  of 2004, the relationship was over.
But not for good! What Bennifer has shown us is that it is possible to forget the embarrassments of the past and give yourself over to destiny. This has always been five-time-fiancée J.Lo's M.O.: She loves hard and fast. Affleck, too, is not afraid to dive headfirst into a relationship and to make that relationship public. Together they understand the redemptive power of love and their best angles for a pap stroll.
Just before the couple confirmed their engagement in 2002, Lopez did an interview with MTV, in which she acknowledged the fanfare surrounding their relationship. Sometimes, she said, she just wanted to go to a Sunday-afternoon movie without causing a scene. But "if that's something that's part of it, then that's fine," she allowed. "We feel the love and we're very happy about it."
What can we expect from Bennifer now? It's almost frightening to contemplate. In less than two weeks, they have given us clandestine meetings at Lopez's Bel Air compound, a weeklong vacation in Big Sky, and paparazzi shots of them holding hands while descending from a private jet. Affleck reportedly sold the Harry Winston years ago, but maybe he can buy it back? Though they might claim to value their privacy, whatever happens, Affleck and Lopez will let us watch.