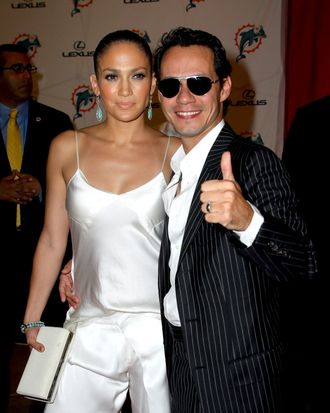 J.Lo and Marc Anthony
Photo: John Parra/WireImage
Despite the fact that she is not actually single — that she is in fact rumored to be "full-on dating" her former fiancé, Ben Affleck — Jennifer Lopez certainly seems to be seeing a lot of ex activity since calling off her engagement to A-Rod. First, it was Affleck, reportedly "flooding" her inbox with flirty emails. Then came Diddy, sharing a thought-provoking throwback photo of the couple holding hands circa the year 2000. Now, we have ex-husband Marc Anthony, apparently seen hanging out with the Hustlers star in Miami last week. Springtime for J.Lo, indeed.
According to People, J.Lo and Anthony — who broke up in 2011, after nearly eight years of marriage — got coffee at the W Hotel on Thursday. Someone who witnessed the meet-up reported that "a lot of hotel guests recognized her and she was super nice and upbeat with anyone who approached." That she was out with Anthony is perhaps not so surprising, given that he has reportedly been "very comforting" to J.Lo during her split from A-Rod in April, and given that they have amicably co-parented their twins, Emme and Max, all these years.
However! Given that J.Lo married Anthony just five months after the abrupt end of Bennifer, and given that J.Lo would refer to their marriage, in her memoir, as a "Band-Aid" on a "wound [that] hadn't been stitched or healed" — "Marc came back into my life three days after I should have been at the altar saying 'I do' to another man," in her "loneliest hour," she wrote — I am simply wondering if he has any further thoughts on the big reunion. One anonymous source told Hollywood Life that Anthony and J.Lo are "still extremely close, he's one of her biggest cheerleaders," and "all he wants is for her to be happy." According to this person: "If Ben makes her happy then he's [Anthony's] all for it." All of which sounds very mature. Anyway, I guess now it's actually your move, Drake.