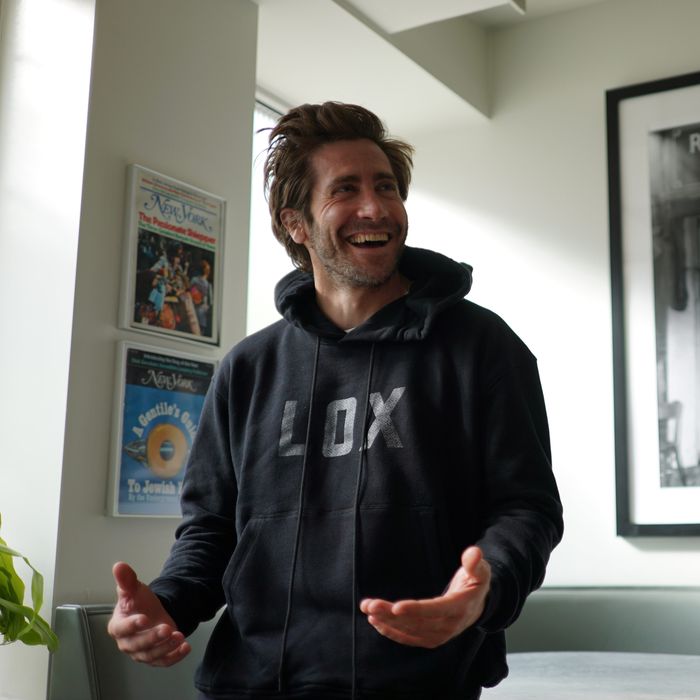 Photo: Courtesy of Russ & Daughters
New York City may be reopening, but one man is still doing the exact same thing. His is name is Jake Gyllenhaal, and he continues to promote smoked fish while looking absolutely smoking hot.
On Wednesday afternoon, the actor announced an official collaboration with Russ & Daughters — one of New York's oldest and most beloved smoked-fish purveyors — on a $150 black hoodie emblazoned with the word LOX. Each sweatshirt is made in New York, and proceeds will go to the Actors Fund, which supports local theater workers impacted during the pandemic. The hoodie also pays homage to New York Forever, a non-profit campaign to create a stronger New York for all New Yorkers.
Apparently, the whole thing was Jake's idea and was inspired by the success of his partnership with the store last summer. You may recall, back in the bygone days of lockdown, when he put on a limited-edition Russ & Daughters tie-dyed T-shirt while doing a handstand and the interwebs (me) went nuts. "Support local businesses," he cooed on Instagram a few months later, encouraging his 6.4 million followers to buy the tee online.
"We are very excited to see that an idea hatched a year ago with Jake has come to fruition," said Josh Russ Tupper, the fourth-generation co-owner of Russ & Daughters, about the launch of the new "LOX" hoodie today. To promote it, Jake modeled one while crouching down next to a garbage bag full of bagels. He wasn't upside down (and, tragically, we cannot see his signature gold-chain necklace), but the image was just as, um, inspiring. I may already have a closet full of merch, but I'll buy whatever he's selling.
The Russ & Daughters "LOX" hoodie can be purchased here.