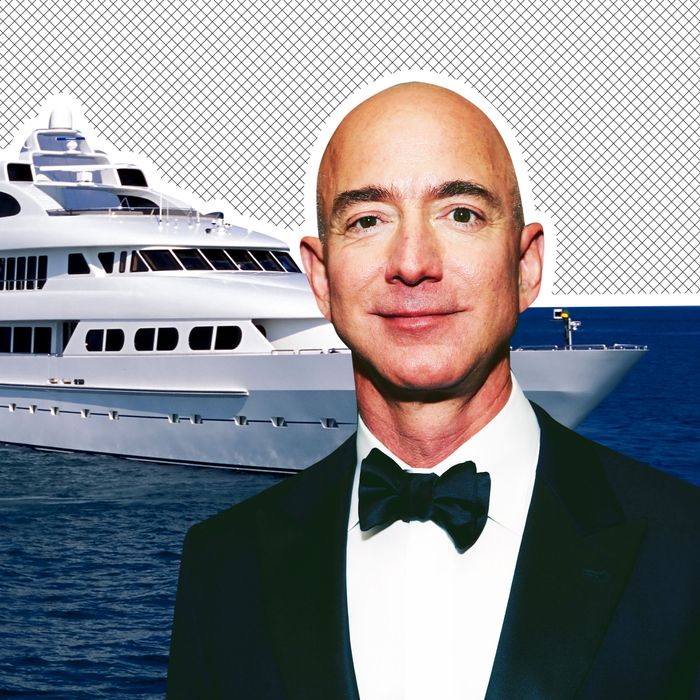 Photo-Illustration: by The Cut; Photos: Getty Images
Another day, another reason that we must simply eat the rich. Construction is almost complete on the $500 million superyacht purchased by Amazon Daddy and Lizzo superfan Jeff Bezos. The 417-foot-long monstrosity, which Bezos bought two years ago, is among the biggest ever built in the Netherlands, the unofficial big-boat-building capital of the world.
What does a yacht longer than a football field come with? Multiple decks, an "ambient cinema," and its own support yacht. Yes, the yacht comes with its own yacht.
Project Y721 — the big boat's temporary name — also has its own helipad. This is apropos given the rumors that Bezos's sudden interest in helicopters may be what exposed his affair with now-girlfriend and famously "alive girl" Lauren Sanchez.
On top of the half-a-billion-dollar price tag, operating costs for the yacht will average about $60 million a year, per Bloomberg. To put that into context, for someone who makes $68,700 a year, the current median income in the U.S., that'd be like paying $23 in yearly operating costs. A pittance for the literal richest man on the planet.
Bezos isn't the only rich person continuing to do rich-person things amid a struggling global economy. As Bloomberg reports, the yacht industry is among the few markets that thrived despite the spread of coronavirus. This shouldn't come as any surprise, given the pandemic made the rich even richer. Bezos, for example, saw his wealth increase by 57 percent, per CBS News. Between March 18, 2020, and March, 18 2021, Bezos's worth grew from $113 billion to $178 billion. Last year, the median income among Amazon employees was $29,007, per Business Insider.
Perhaps this purchase is Bezos in full post-divorce crisis mode. (He did buy the yacht the same year he and MacKenzie Scott announced they would be splitting.) While Scott recently remarried, Bezos continues to surround himself with the biggest, dumbest things money can buy. If anything, this all just further proof that the only good boats are the ones that get stuck.