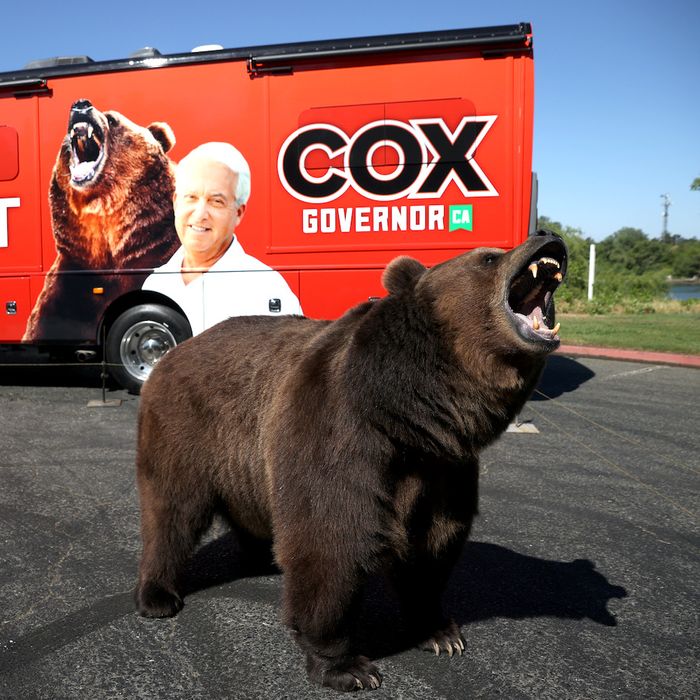 He's running.
Photo: Justin Sullivan/Getty Images
How do you feel about political animals? By which I do not mean people keenly interested in politics, but animals who are political, or even politicians. Take Sweet Tart, for example, the cat who handily defeated 13 dogs, a goat, a chicken, and a feline rival to become mayor of a small Michigan town, or Duke the Great Pyrenees, who presided over Cormorant, Minnesota, for four terms before retiring due to old age: One wonders who is really pulling the municipal strings, but regardless, the pets' constituents typically seem pleased with the arrangement. ("There's no question that he'll do a good job representing the community," said the human man who ran against Duke in 2014 and lost.) So with that in mind, consider: A bear? For governor of California? Seems pretty far-fetched but … what do you think?
To be clear, California already has a governor — Gavin Newsom — although he may well face a recall election this year. Already, prominent Republicans, including Caitlyn Jenner, are lining up to replace him. On Tuesday, a prospective candidate calling himself "the Beast" held a press conference in Sacramento, kicking off a bus tour that will allow people to "Meet the Beast." Confusingly, "the Beast" refers both to would-be governor John Cox, and also to the large Kodiak bear (according to some reports, although a California grizzly would've made more sense) traveling with him. Apparently, this self-imposed nickname is part of a campaign-framing bit, positioning Cox as the natural adversary to Newsom, i.e., "the Beauty." I don't know. He made a whole attack ad about it. Anyway, of the two "beasts" who showed up at the presser, the public appears to have a clear preference for the one who loped around eating chicken in the background.
Cox reportedly pitched Tag as a potential contender for lieutenant governor, but given the choice, whom would you rather have in the top spot? As Defector points out, Cox has repeatedly run for office — president of the United States, U.S. senator, California governor, Cook County Recorder of Deeds — and lost every time. Indeed, last time he ran for governor, he lost in a landslide that saw Newsom declared the winner minutes after polls closed. Also, Donald Trump once called Cox "a really good and highly competent man." And! Animal-rights groups have been calling his use of a live bear (a trained Hollywood movie bear and, reportedly, a member of the Screen Actors Guild, but still) for stunt purposes exploitative and abusive. Frankly, I think they have a point. The Guardian speculates that Tag would be "far less likely to bring about significant legislative change," but please, let's just listen to what he has to say: