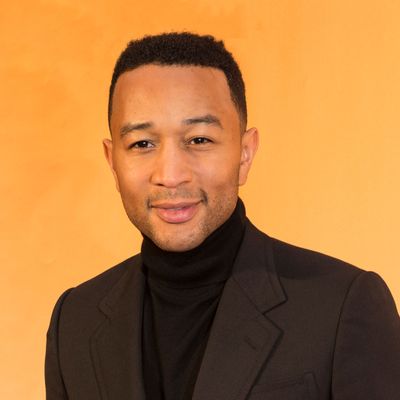 Photo: lev radin/Shutterstock
One thing about being married to Chrissy Teigen: You get access to all the best beauty products. That's how John Legend discovered the Japanese skin-care brand SK-II. "Chrissy was in love with their products for years," he explained to the Cut. "When we started dating, I started bumming her products off of her."
Legend (who is on the board of Vox Media, the Cut's parent company) wound up forming a relationship with the brand, even writing a song about pitera, its key bio-ingredient. And now he's teamed up with SK-II again as part of a campaign with gymnast Simone Biles. The project consists of short films in which Olympic athletes confront societal pressures. Biles's film is called Trolls and explores the pressures women face online — another thing, unfortunately, that Legend has learned about through his relationship with Teigen.
Below, he talks to the Cut about "Take a Look," the song he wrote for the film, and about the challenges of living your life online, especially for women.
The film centers around self-confidence in the digital age, especially for young women. Why is this message important to you?
I'm married to a woman who deals with a lot of challenges on social media, to say the least. Chrissy quit Twitter for a while because she just didn't want to deal with the negativity. For women online, there's just so much coming at them. Their appearance is picked apart more than men's. They are criticized if they speak out; they're criticized for having an opinion. There's just so much that men don't have to face. As someone who loves and cares about my wife, I could understand what story they were trying to tell around Simone, because I see how difficult it can be to be a woman online, through Chrissy.
Does it impact how you're raising your kids?
My daughter is 5 years old, so she's not yet reading reliably, let alone worrying about social media, but this is the world she's going to grow up into. Her parents are extremely famous, and we don't hide our children from the cameras. We've let people in our lives, at least some of the time.
I don't know exactly how that's going play out in the future, but we're going to try our best to prepare them for the world, teach them to be kind and empathetic and not judgmental and generous, and to understand that there's more to them than how they look. The world wants to tell them it's a competition when it comes to beauty, but we want to encourage them to value their full selves — their intelligence, their generosity, their talent. We want them to value themselves as full human beings.
What made you want to work on this campaign?
The Olympics are on their way to Tokyo. SK-II is a brand with the Japanese heritage, and I love that they're engaging with these female athletes and looking at some of the challenges they face — both in and out of the competition. I'm a superfan of Simone Biles and the great work that she does, and I know what an important athlete and representative of our country she is. Helping to tell her story sounded really cool to me. It was a really fun collaboration.
How does your song fit in?
If you watch the film, we kind of take this journey, where it starts out with this more romantic, fantastical song at the beginning. That's a throwback to classic Hollywood film music and Disney songs. Then in the middle of the film, it starts to get darker and you see some of the negativity that Simone faces, being out in the public eye and being scrutinized and being harassed online. Then, the final part of the song is more of a triumphant celebration of the fact that she is able to, despite whatever negativity she faces, be one of the greatest athletes we've ever seen. She is able to triumph over adversity, over whatever challenges she faces. It ends on a really inspiring note.
Parts of this interview have been edited and condensed for clarity.