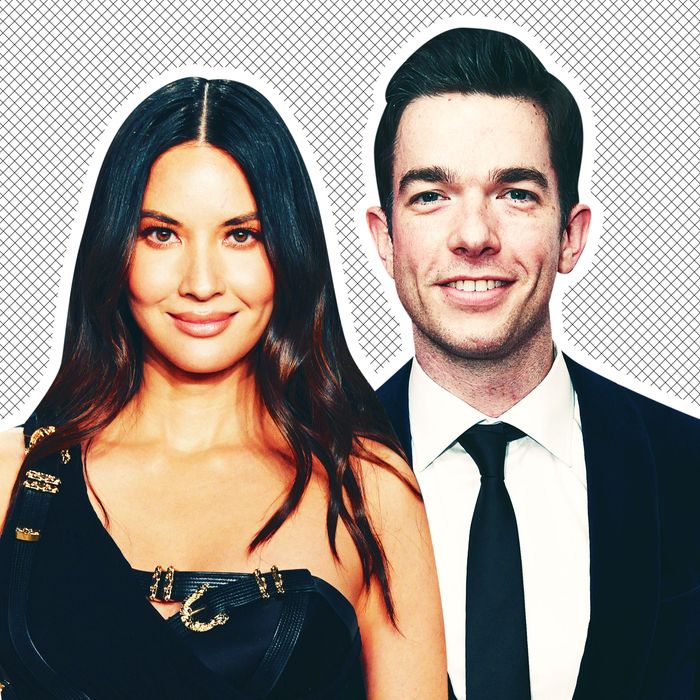 What?
Photo-Illustration: by The Cut; Photos: Getty Images
Just five months in, and 2021 has already deluged us with absolutely unexpected celebrity couples: Bridgerton's Phoebe Dynevor and SNL's Pete Davidson (officially romping!); Taika Waititi and Rita Ora (unconfirmed!); Kat Dennings and Andrew W.K. (engaged, suckers!); Kourtney Kardashian and Travis Barker (sigh.); and now … John Mulaney and Olivia Munn? An item, according to People. And "Page Six." And Us Weekly. In a word: Hm!
Despite the volume of tabloids reporting, we are still talking about the claims of an unnamed sources. Still, they are surprising if true: One, because Mulaney and his wife of nearly seven years, Annamarie Tendler, only just confirmed their divorce on Monday; two, because what? That being the question I most frequently ask myself when Munn enters the chat, whether she is talking beauty potatoes or investigating a dog-napping or raging against the blog machine. Where did Munn and Mulaney even meet, you ask?
"They met at church in Los Angeles," a source tells People. "This is very new, they're taking it slowly."
But already, holes in this narrative have emerged. In a 2015 HuffPost Live, Munn recalled "fangirling" over Mulaney when she ran into him and Tendler at a wedding. "I was like 'Oh my gosh, do you and your fiancé want to go have dinner or something and go hang out?'" she said. "At first it was cool, and then I kept going up to him at the wedding like, 'So you having fun?' I was just so obsessed with hanging out with and talking with him." Munn said she sent him an email — is this really how people flirt? — after the fact, but "he never emailed back."
Anyway, it's possible Munn was dating football guy Aaron Rodgers (himself one half of an unexpected 2021 couple) at the time, I don't know. All I can say is that Mulaney reportedly asked Tendler for a divorce three months ago, and that Munn tweeted "SO MUCH love and support" at him when he entered rehab in December. The timeline is murky, and the huh … okay energy, huge. If you are feeling confused by the whole bit, just know that you are probably doing better than the Sun, which appears to have pegged Munn for an entirely different Hollywood Olivia. That Olivia debuted her own surprise relationship in January, the Sun, keep up!