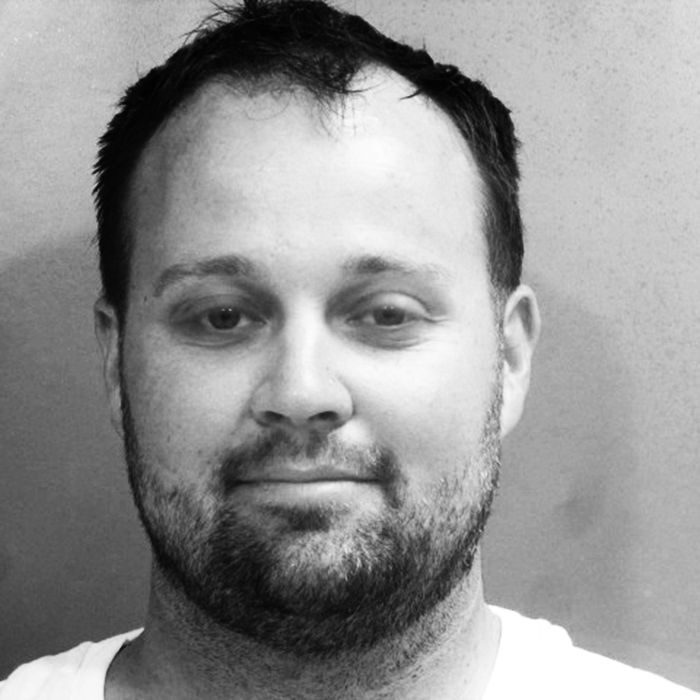 Photo: Washington County Sheriff's Office via Getty Images
Josh Duggar, the former and already-disgraced star of TLC's reality series 19 Kids and Counting, is facing federal child-pornography charges for allegedly downloading material depicting sexual abuse of children under the age of 12. Following his arrest last week by U.S. Marshals, Duggar, 33, appeared in an Arkansas court, where he pleaded not guilty. He now awaits trial.
The charges follow previous reports of Duggar's sexual abuse and misconduct, including allegations that as a teenager, he molested five underage girls, including his sisters Jill Duggar and Jessa Duggar. Those allegations came to light in 2015 and resulted in the cancellation of his family's reality-television series. Not long after, Gawker revealed that Duggar had accounts on the dating site Ashley Madison and had been cheating on his wife, Anna. The allegations were particularly scandalous given the conservative Christian values preached by Duggar's family and their television series.
"I have been the biggest hypocrite ever. While espousing faith and family values, I have secretly over the last several years been viewing pornography on the internet and this became a secret addiction and I became unfaithful to my wife. I brought hurt and a reproach to my family, close friends, and the fans of our show with my actions that happened when I was 14-15 years old, and now I have re-broken their trust," Duggar wrote at the time in a now-deleted post on his family's website.
Despite all of this, Duggar's wife, Anna, stayed with him, and recently posted news of her pregnancy with the couple's seventh child to her Instagram account. While she has yet to make a statement following these new allegations, Josh's parents, Michelle and Jim Bob Duggar, posted a statement to their family's official Facebook account. "The accusations brought against Joshua today are very serious," they wrote. "It is our prayer that the truth, no matter what it is, will come to light, and that this will all be resolved in a timely manner. We love Josh and Anna and continue to pray for their family."
Following Duggar's arrest on April 29, he was booked into Washington County jail; the next day, he was indicted on the federal charges, to which he pleaded not guilty. While Duggar returned to jail after the appearance, he has since been granted release: Yesterday, U.S. District Judge Christy Comstock ordered that Duggar can stay with family friends who have agreed to be his custodian, though he is barred from from using any devices with internet access until his trial, scheduled for July 6.
The case is being prosecuted as part of Project Safe Childhood. If convicted, Duggar faces up to $250,000 in fines on each count and up to 20 years in prison.
This post has been updated.