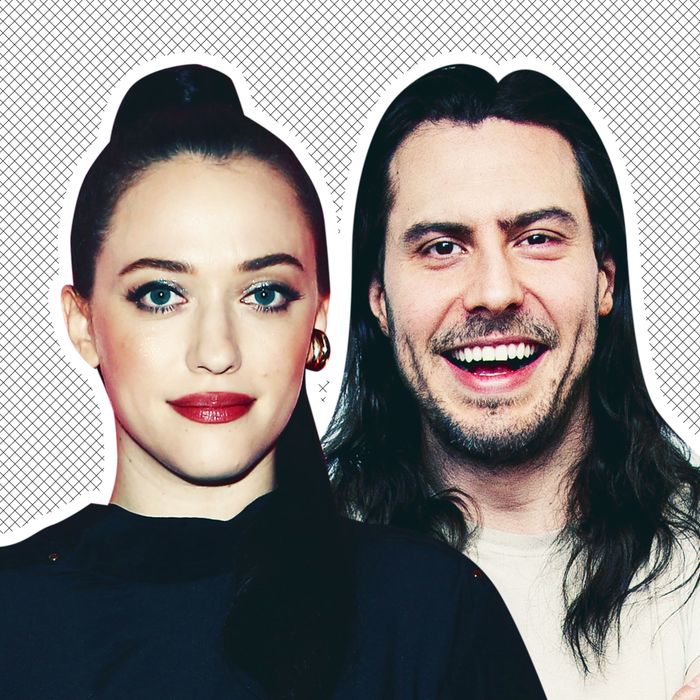 Kat Dennings and Andrew W.K.
Photo-Illustration: by The Cut; Photos: Getty Images
Well, look who's making it official. In a pair of matching Instagram posts, actress Kat Dennings and musician Andrew W.K. appear to have announced that they are engaged. Fun! Maybe a bit unexpected, but fun!
The series of photos shared today show Dennings's bejeweled ring finger and the couple having a nice little smooch. "Don't mind if I do," Dennings wrote on Instagram. Each commented on the other's photo set with a series of hearts — the 2021 version of updating your relationship status.
The engagement announcement comes just a couple weeks after Dennings and W.K. confirmed that they are, in fact, together. In addition to posting some thirst-trap-adjacent photos of the self-proclaimed God of Partying, Dennings shared a picture cozying up with W.K. earlier this month. The musician further confirmed the relationship in a press release, which is a bit formal, but I appreciate it nonetheless.
While Dennings and W.K. may seem like an unexpected pair, they appear to have been friendly with each other for quite some time, per Vanity Fair. Regardless of how long they've known each other, I say hell yeah to this union. They are the alt couple we all deserve. I look forward to the two taking more horny pics of each other and a summer hopefully filled with even more unlikely celebrity engagements.