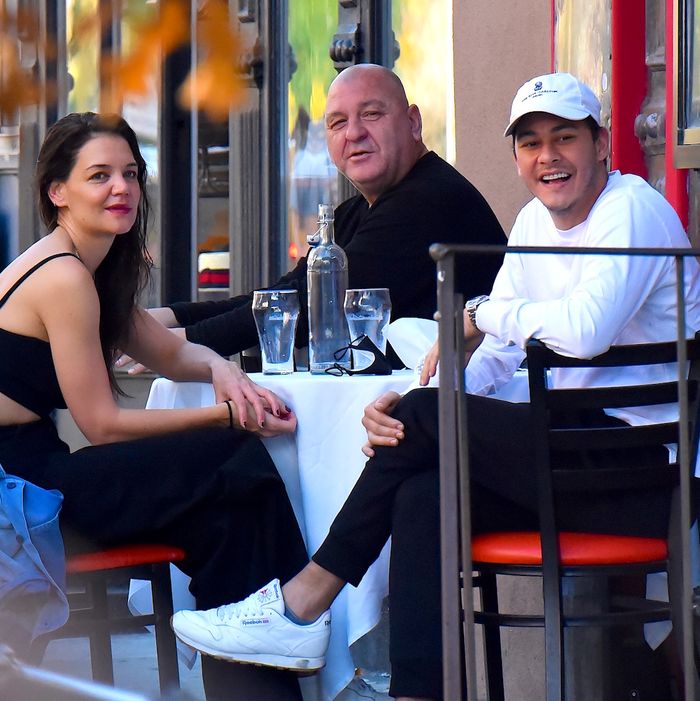 :(
Photo: Robert Kamau/GC Images
A big and bittersweet day for celebrity romance: We have strange new beginnings, surprise engagements, and alas, one not-unexpected ending. Yes, it appears that Katie Holmes and her sexy pasta-scion BF, Emilio Vitolo Jr., have officially split.
"The pair have parted ways amicably but remain friends," a spokesperson for Holmes told Us Weekly. A source elaborated: "Their relationship fizzled. They figured out they're better off as friends. There's no drama that went down with the breakup and in fact, they're still friends. Katie and Emilio really enjoyed their time together — it just simply didn't work out. She's focusing on being a mom and her upcoming projects."
Friends, okay?? They're friends. Friends who spent months furiously making out all over Manhattan, often at his father's Italian restaurant, but friends nonetheless. This development is probably not surprising, given the reports of trouble in pasta paradise that surfaced in late April. At the time, the sources were saying the couple had "agreed to give each other space," and if you understood that explanation to mean they were breaking up, you were correct. Us Weekly now confirms the break-up happened about two weeks ago.
Unfortunate, because ca. September, Vitolo reportedly dumped his live-in fiancée — via text! — in order to mash faces with Holmes all over town, and because I imagine we will have fewer occasions to use the phrase "pasta scion" going forward. So please, let us make use of the time that is left to us. Pour one out for the pasta scion. Goodnight, pasta scion, and good luck.