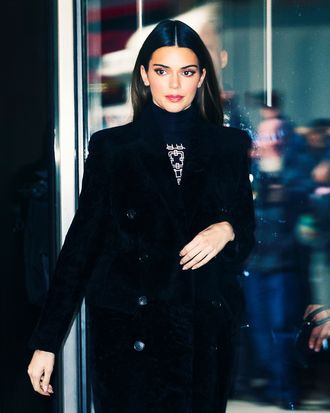 Photo: Jackson Lee/GC Images
To celebrate the California launch of her new tequila brand 818, Kendall Jenner shared some promo material which has been met with a lot of hmms. On Instagram, Jenner posted shots from the 818 ad campaign, writing, "What an incredible experience I have had thus far, learning about this beautiful place [Jalisco, Mexico], it's beautiful culture, and the beautiful people!"
The photos show Kendall "Horse Girl" Jenner riding horseback among rows of agave plants, Jenner sipping tequila on the back of a pickup truck, a couple shots of agave farmers, and a short video of Jenner awestruck at a stack of agave cooking in an oven.
Some read Jenner's outfit — jeans, a cowboy hat, a loose cotton shirt over a tank top — as an attempt at migrant chic or "soft-core field worker," implying that it's capitalizing on stereotypes associated with Mexican farmers. Some have called out previous photos for their sepia-esque filter, one repeatedly used by American media when stereotypically depicting Mexico. Other comments on 818's Instagram page question the pay of the people farming the agave plants, or note Mexican-owned tequila brands to support. Jenner has turned the comments off the post on her personal page.
Jenner is far from the only non-Mexican celebrity to launch a brand of tequila. The Rock, Nick Jonas, Michael Jordan, and George Clooney have all attached themselves to a tequila brand in the last couple years. However, people started ringing appropriation alarm bells when 818 tequila was announced in February.
Tequila is inherently tied to Mexico and Mexican culture, more specifically to the town Tequila, Jalisco, which is considered the drink's birthplace. Some critics have called out the cultural and economic implications of celebrities starting tequila brands, noting the potential to take away business from locally owned distilleries or exploit farmers. 818's website notes they "work closely with local, family-owned farms in Jalisco, Mexico" but the branding is more heavily focused on sustainability. Jenner hasn't publicly responded to criticisms of 818.
The Kardashian-Jenner clan is no stranger to accusations of cultural appropriation and tone-deafness. Who can forget the now-infamous Pepsi ad where Jenner ended police brutality by handing a cop a soda? If nothing else, it's not exactly surprising that there is backlash to this latest Jenner-branded venture.