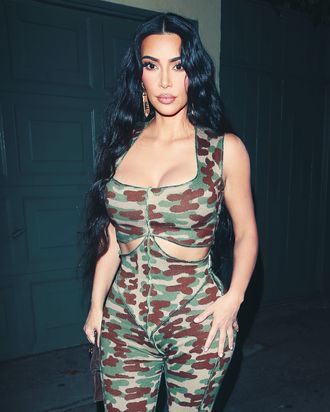 In a suit filed on Monday in Los Angeles, a group of former gardening and maintenance workers have accused Kim Kardashian of a range of worker violations. The lawsuit claims that Kardashian was late with pay, withheld wages for taxes without reporting them to the government, refused to pay overtime, and would make employees work without meal breaks.
Additionally, the court papers, obtained by TMZ, allege workers didn't receive itemized pay stubs, and one former worker claims he was fired after bringing up overtime pay, meal breaks, and the tax issue. Another, who was 16 at the time of employment, claims he was made to work significantly more than the maximum 48 hours allowed for underage summer employees.
"Wage theft and other workplace violations are a widespread problem in Los Angeles," Frank Kim, the lawyer representing the former workers, told "Page Six." "My firm is currently investigating other potential violations against these defendants, as well as other powerful families and businesses on behalf of everyday workers."
A spokesperson for Kardashian cited a third-party vendor as the responsible one in the claims, giving the following statement to "Page Six": "These workers were hired and paid through a third-party vendor hired by Kim to provide ongoing services. Kim is not party to the agreement made between the vendor and their workers, therefore she is not responsible for how the vendor manages their business and the agreements they have made directly with their staff."
Kardashian herself has also responded to the new lawsuit. In a recent Instagram story Q&A, one follower asked Kardashian outright, "do you pay ur employees lolz." Kardashian responded, "Absolutely, I respect people for their time and their hard work and unfortunately these workers are suing the wrong person. I paid the vendor and it's their job to pay the staff I hope that they are able to get this issue resolved soon."
Frank Kim is also repping plaintiffs in multiple suits against Kanye West. These lawsuits filed by former staff of the rapper make similar complaints about working conditions. In one suit, performers and staff allege mistreatment during West's Sunday Service shows, claiming they were underpaid and not compensated for overtime. In a second case filed against West, a former assistant designer for Yeezy claims she was not paid overtime and was made to work through meal breaks. Neither suit has been settled.
Kim Kardashian is no stranger to lawsuits: She's been sued for everything from hair removal to selfies to perfume. (Most of these suits appear to have been settled for undisclosed amounts.) She also hasn't shied away from filing lawsuits herself. Kardashian previously settled with Old Navy for $20 million after the company used a look-alike of her in an ad campaign. She also settled with the clothing company Missguided for $2.7 million after they used her likeness without permission. Given her extensive experience on both sides of a suit, it's fitting that Kardashian plans to take the bar exam in 2022. Although, she did recently fail the "baby bar" exam …
So, she probably won't be representing herself in court anytime soon.
This post has been updated.