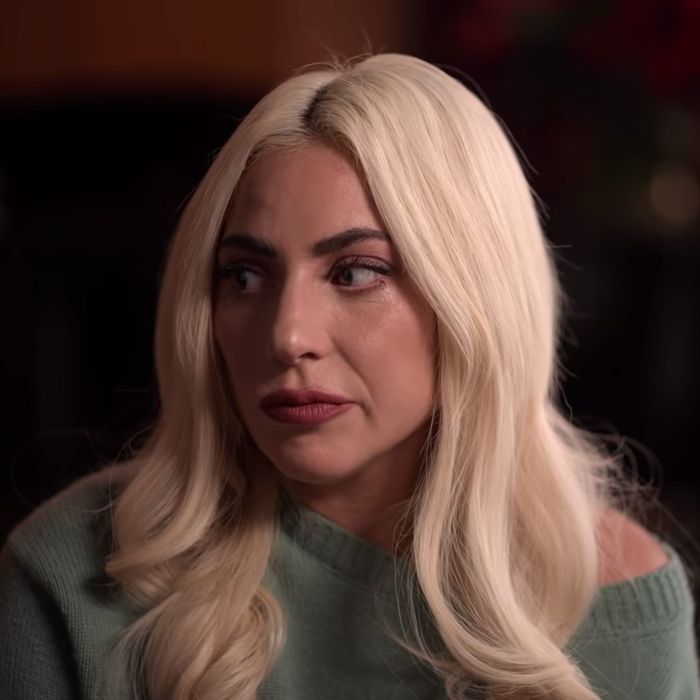 Lady Gaga
Photo: Apple TV+
During the premiere episode of The Me You Can't See, Prince Harry and Oprah Winfrey's new Apple TV+ docuseries that aims to destigmatize mental illness, Lady Gaga opened up about suffering a "total psychotic break" after a music producer raped her and left her pregnant when she was still a teenager.
"I was 19 years old, and I was working in the business, and a producer said to me, 'Take your clothes off,'" Gaga recalled through tears. While she says she quickly said no and left, the producer began threatening to "burn" all her music. "They didn't stop asking me," she continued, "and then I just froze and I just … I don't even remember." While she commended those who choose to name their abusers, she declined to identify hers, explaining, "I do not ever want to face that person again."
This isn't the first time Gaga has spoken publicly about the assault; she first opened up on Howard Stern's morning show in 2014, and two years later, she revealed that she had been diagnosed with PTSD. But not until the docuseries had she described the lasting pain and trauma of the experience in such detail. "I realized it was the same pain I felt when the person who raped me dropped me off pregnant on the corner, at my parents' house, because I was vomiting and sick," Gaga said. "I've had so many MRIs and scans. They don't find nothing, but your body remembers."
After her PTSD diagnosis, Gaga continued, "I had a total psychotic break, and for a couple years, I was not the same girl." Starting in 2018, Gaga began canceling concert dates; the following year, she won an Oscar for the hit song "Shallow" from A Star Is Born. Meanwhile, she says, "nobody knew" how much she was struggling.
While Gaga eventually "learned all the ways to pull myself out of it," she emphasizes that the healing process isn't linear. "Even if I have six brilliant months, all it takes is getting triggered once to feel bad," she said, adding that she still struggles with the impulse to cut and otherwise self-harm. But nowadays, she says she looks for ways to "give back" with her experience, rather than "locking it away and faking it."
"I'm not here to tell my story to you because I want anybody to cry for me. I'm good," Gaga said. "But open your heart up for somebody else. Because I'm telling you, I've been through it and people need help. So, that's part of my healing, being able to talk to you."