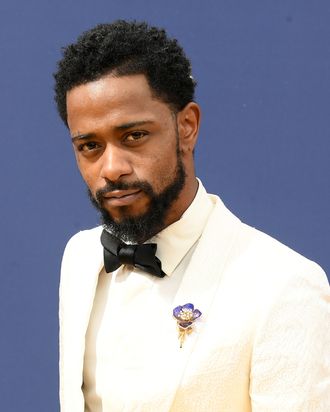 What if we…kissed?
Photo: Steve Granitz/WireImage
LaKeith Stanfield understands what the people want: disco jumpsuits, dinner parties with robots, and celebs giving themselves a little kiss. On Monday, the Oscar-nominated actor shared an Instagram video in which he's lying in bed, using a filter that creates an outlined mirror image of yourself. What is one to do when presented with a neon outline of yourself? Why, give it a little kiss of course.
LaKeith clearly understood the assignment, laughing as he continues to kiss again and again. It's art, cinéma vérité, overall just a gorgeous short film.
The video ends with him saying "OK, OK, self-love." Perhaps those who fear the imminent post-pandemic physical contact can warmup with what I am henceforth referring to as the LaKeith Method. XOXO