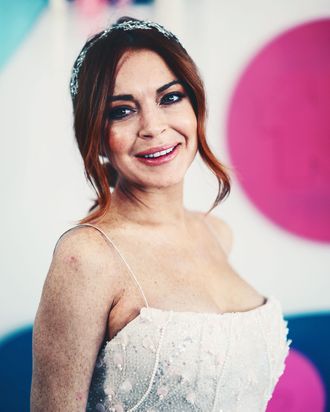 Photo: James Gourley/Getty Images
I come bearing great news: Lindsay Lohan will grace our screens once again. As Variety reports, "Lindsay Lohan will star in a new romantic comedy about a newly engaged and spoiled hotel heiress who finds herself in the care of a handsome, blue-collar lodge owner and his precocious daughter after getting total amnesia in a skiing accident." They really just threw every word they could think of into that log line, huh?
So many questions, so few answers. Who will play the handsome lodge owner? Who is playing her fiancé? Who will be the precocious daughter and why isn't it Billy Eichner? Is the plot supposed to be reminiscent of Overboard, which is also about an heiress with amnesia and was recently remade with Anna Faris? Which of her ever-changing accents will Lohan be using? No other cast members have been announced and the movie doesn't start production until November, so that leaves us plenty of time to speculate.
Aside from a reality-TV stint and a recurring role on British sitcom Sick Note, Lohan has been pretty much absent from our screens for nearly a decade. In 2019, Lohan did star in Among the Shadows, a video-on-demand thriller that somehow combined werewolves and the United Nations? For obvious reason, I will not be including this in the Lohan Canon. She also appeared as a guest judge on Australia's Masked Singer, where she memorably told season-one winner Cody Simpson, "I want my furniture back because I bought your furniture for your house in Venice."
Some people questioned why she didn't make a cameo in Ariana Grande's "thank u, next" music video, which re-created the iconic "Jingle Bell Rock" dance routine from Mean Girls. "They probably couldn't get in touch with me, I guess," Lohan said. "I don't know. It's not that easy to just fly in from Dubai." A casual yet devastating excuse from Lohan who, if it wasn't clear, currently lives in Dubai.
Last year, Lohan released a single called "Back to Me" after teasing a new album and releasing the song "Xanax" in 2019. There's been nary a peep of new music since then. So, if there isn't a karaoke scene in this new Netflix movie, I will sue.