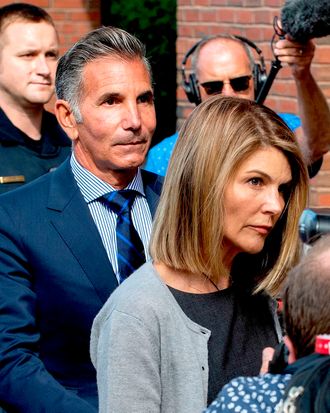 Lori Loughlin and Mossimo Giannulli
Photo: JOSEPH PREZIOSO/AFP via Getty Images
A few months have passed since accused scammer Lori Loughlin completed her nearly two-month prison sentence. She has also paid a $150,000 fine and completed the mandatory 150 hours of community service, after pleading guilty to fraud-related charges in the college admissions scandal. Meanwhile, her husband — Mossimo Giannulli, formerly of Target T-shirt fame — was released from prison last month, and "is actively working on completing his community service requirement," according to a filing seeking a judge's permission for a beachy getaway in June. Some might say that it feels a little too soon to be asking for exceptions like this, but not the judge. U.S. District Judge Denise J. Casper reportedly signed off on the trip on Thursday.
Loughlin and Giannulli put in their vacation request on Monday, asking to travel to San Jose Del Cabo in Mexico from June 16 to June 21. The couple reportedly wants to "spend time with [their] family," which is understandable, given their recent stints behind bars. Only maybe there is a way to accomplish the bonding that doesn't involve asking a judge for special treatment, seeing as the pursuit of special treatment is what got these two in so much trouble in the first place.
In March 2019, the Justice Department accused Loughlin and Giannulli of paying a sham college counselor $500,000 to fake illustrious athletic profiles for their two daughters, effectively buying their way into the University of Southern California. Initially, TV's Aunt Becky pleaded not guilty, but as more and more accused parents received jail sentences, she and Giannulli appeared to read the writing on the wall. Loughlin pleaded guilty to one count of conspiracy to commit wire and mail fraud, while Giannulli pleaded guilty to one count of conspiracy to commit wire and mail fraud and honest services wire and mail fraud. The couple were sentenced to two and five months in prison, respectively, followed by two years of supervised release.
But this has not stopped them from luxuriating. Last month, the pair spent a long weekend at the Madison Club in La Quinta, reportedly "one of the most exclusive country clubs in the world," to "reconnect" via spa treatments and golf. Tabloid sources indicated that the trip was very nice for them, only now it appears they require a more intensive course of relaxation. As of Thursday they have the support of the court, so … see everyone on Olivia Jade's Instagram, maybe.
This article has been updated.