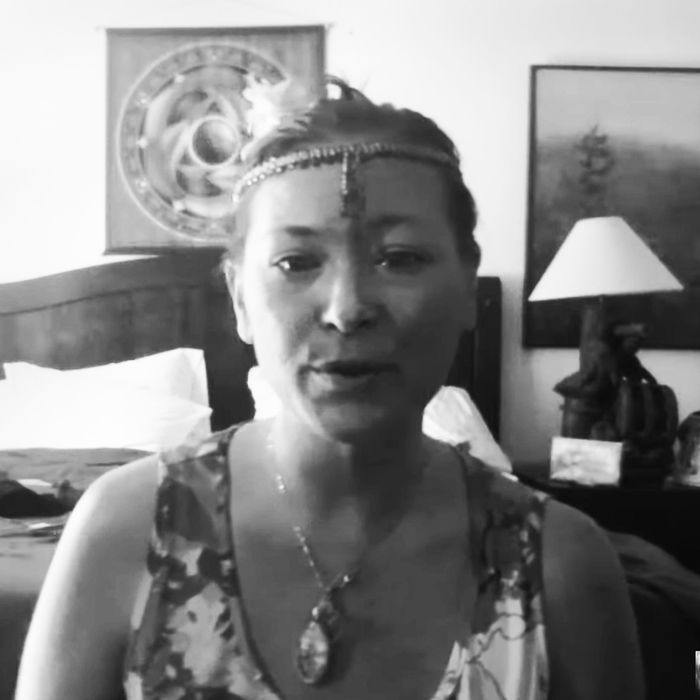 Amy Carlson.
Photo: 5D Full Disclosure/Youtube
Last week, a distressed man walked into a police station in rural southern Colorado, alerting officers to a corpse inside his home. There, they came upon a disturbing, unreal scene: Situated in what appeared to be "some type of shrine," investigators discovered a decomposing body, mummified and wrapped in a sleeping bag and Christmas lights, with glitter makeup encircling the corpse's seemingly empty eye sockets. The man who notified authorities identified himself as a follower of Love Has Won — which claims to be a spiritual organization, but is more often described as a cult — and the body, he continued, belonged to Love Has Won's leader: a woman named Amy Carlson, known within the group as "Mother God."
The body's discovery — and the preceding events — are bizarre, almost unbelievably so. While an official cause of death has not yet been announced, many Love Has Won followers appear to be commemorating Carlson's death as a great "ascension," and seven followers have been charged with abuse of a corpse. Here's what we know about the case.
Amy Carlson founded Love Has Won.
While the group's beginnings are predictably murky, it appears Carlson started Love Has Won about 15 years ago — according to her children, who say she abandoned them in the process. Heavily influenced by New Age, the group billed itself as a spiritual organization, offering "spiritual intuitive ascension sessions" and products including colloidal silver and medicinal supplements. However, law enforcement and those intimately familiar with the group have never hesitated to characterize it as a cult.
At the head of the organization was Carlson, known to followers as "Mother God," who was revered as an almighty figure: She told her followers that she could communicate with angels, was capable of curing ailments like cancer, and would help guide chosen ones toward a great awakening or a new dimension. On the group's now-defunct website, Carlson claimed to be in her "534th reincarnation in my quest to recover my beloved Planet," and that her past lives included Jesus Christ and Marilyn Monroe.
While Carlson and her most devoted followers all lived together in a house in Colorado, one former follower, Andrew Profaci, estimates the group had thousands of followers worldwide when he left five years ago. According to a Vice News documentary, many of these members were recruited through Facebook and YouTube, where members hosted daily live-video streams, promising to offer a superior alternative reality to those willing to prove their dedication through financial contributions.
Former members and families of followers have accused Love Has Won of fraud, brainwashing, and abuse; according to a recent affidavit, the Saguache County Sheriff's Office has received "many complaints" from families across the country. "It's a lot, a lot, a lot, a lot of mental manipulation, a lot of brainwash," one former follower told Vice News, who also claimed that Carlson only let members sleep for four hours.
While the group managed to fly under the radar for much of its early existence, last September, the organization drew headlines when a group of 14 followers — Carlson included — was forced to evacuate Hawaii. Apparently, the group took up residence on the island of Kauai, where followers spurned face-mask guidelines and appropriated Hawaiian culture. (Carlson reportedly claimed to be Pele, the Hawaiian goddess of fire.) After they clashed with locals, police escorted the group off the island.
Last month, Carlson's body was found mummified in what appeared to be "some type of shrine."
Carlson's body was discovered and reported last week by a follower named Miguel Lamboy. In an interview with investigators, Lamboy claimed that he had recently been traveling and opened up his home in Moffat, Colorado, to fellow followers in need of a place to stay. Upon returning home on April 29, Lamboy found Carlson's decomposing body in a back bedroom, which he believes the group transported to his home from California while he was away. According to the affidavits, which described the shrine-like scene, investigators searched an SUV on the property and found that the seat positions were "consistent with someone transporting the mummified remains."
While Saguache County coroner Tom Perrin has not yet determined how long Carlson has been dead, he estimated "a couple of weeks or more." The manner of death also has yet to be released, but Sheriff Dan Warwick said there is no evidence of foul play. Based on statements from current and past followers, it appears that Carlson hadn't been in good health, and that she was a heavy drinker.
"I was not surprised at her passing," Profaci told CBS Denver. "She was not in very good health and getting worse." Around the time of the Hawaii incident, one follower told the Denver Post that the group had traveled there due to Carlson's health, claiming that she was suffering from cancer.
Within Love Has Won, Carlson's death has not been met with mournful commemoration. "Her essence left the body of Amy Carlson at 12:22," one female follower said in a video posted to Love Has Won's Facebook. "She is indeed happy now." According to the Facebook group LoveHasWonExposed, which is dedicated to bringing to light the group's inner workings, Carlson proclaimed that she would eventually leave Earth via a starship or a portal in the ocean. "Mom had told us All this was coming, She prepared the team and All who feel Her for these MOMents sharing frequently stories of 2008 when the Galactics took Mom to the ships and shared with Her this was a death mission," the same follower wrote. The way the woman — and many other followers — see it, Carlson "did not pass away," but rather, "she ascended."
Carlson's estranged 25-year-old son, Cole Carlson, who says Carlson abandoned him when he was 10 to establish Love Has Won, does not share in their sentiments. "Some of the details that have slowly continued to come out have been rather shocking to me honestly, but they are also a cult, you kind of expect weird things to come out," Cole told a local outlet. Speaking of the future of Love Has Won, he said he "really [doesn't] want to see this work continued," and that he's looking into potential legal avenues to provide justice for former followers and families.
Seven people are facing charges.
At the time of the body's discovery, seven adults were inside the rural residence, all of whom have been charged with abuse of a corpse. (The member who notified authorities of Carlson's death is not among those facing charges.) Those same people are also facing charges of child abuse, in connection to the two children who were also inside the house at the time: a 13-year-old girl, who is now under the supervision of the Saguache County Department of Social Services, and a 2-year-old boy, who is the son of the follower who reported Carlson's death. (Both appeared to be physically unharmed.)
The seven facing charges are scheduled to appear in court via video on Wednesday.