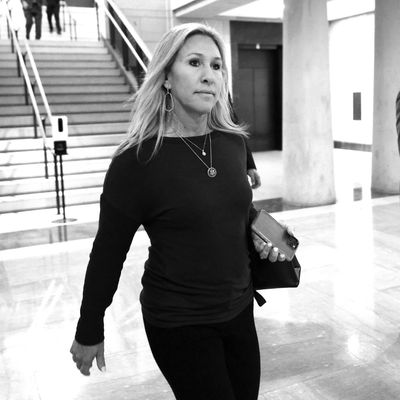 Marjorie Taylor Greene.
Photo: Kevin Dietsch/Getty Images
Earlier this week, Marjorie Taylor Greene, the Georgia Republican who has distinguished herself as one of the most proudly bigoted members of the House, partook in one of her favorite pastimes: harassing her colleagues. On Wednesday, Washington Post reporters witnessed Greene berating one of her favorite targets, New York representative Alexandria Ocasio-Cortez.
"Hey Alexandria!" Greene yelled twice at Ocasio-Cortez, who she was trailing out of the House chamber. According to the two reporters who witnessed the scene, Ocasio-Cortez refused to stop walking, at which point the Georgia Republican launched into a bitter attack. She demanded to know why Ocasio-Cortez supported Black Lives Matter and antifa, inaccurately labeling them "terrorist" organizations. She then cried out that Ocasio-Cortez was failing at defending her "radical socialist" beliefs because she had declined Greene's numerous challenges to debate her. "You don't care about the American people," Greene yelled. Only at one point during the confrontation did Ocasio-Cortez engage, turning around to throw her hands in the air.
This precise mix of aggression and vileness is, at this point, what we've come to expect of Greene. In January, Missouri Representative Cori Bush tweeted that she was moving to a new office out of concern for her and staff's safety after "a maskless Marjorie Taylor Greene & her staff berated me in a hallway." The following month, as the House was debating the Equality Act, Greene — whose office faces that of Illinois representative Marie Newman, whose daughter is trans — put up a sign on her door that read, "There are TWO genders. MALE & FEMALE. Trust the Science!"
And Greene has targeted Ocasio-Cortez even before the Georgia Republican was elected to the House. In September 2020, when she was a congressional candidate, she posted to her official Facebook page an image of herself holding a gun, alongside photos of Ocasio-Cortez and other members of "The Squad," encouraging "strong conservative Christians to go on the offense against these socialists." In a since-deleted livestream that CNN resurfaced last night, Greene can be seen hovering outside Ocasio-Cortez's congressional office in February 2019, screaming at Ocasio-Cortez to "get rid of your diaper" and "stop being a baby and stop locking your door and come out and face the American citizens that you serve."
Following the confrontation this week, Ocasio-Cortez said in a statement to the Post: "We hope leadership and the Sergeant at Arms will take real steps to make Congress a safe, civil place for all Members and staff — especially as many offices are discussing reopening. One Member has already been forced to relocate her office due to Congresswoman Greene's attacks." Greene, meanwhile, boasted about it on Twitter. "Just talked to @AOC again," she wrote on Wednesday. "You chickened out bc you are too scared to debate me about your Socialist Green New Deal." The incident has since been condemned by Democratic lawmakers, including Nancy Pelosi. "This is beneath the dignity of a person serving in Congress," Pelosi said at a press conference on Thursday, calling it a "verbal assault" and "cause for trauma and fear among members."
While disturbed by Greene's conduct, Ocasio-Cortez doesn't appear to be too shaken by the incident. "I used to work as a bartender," she told CNN on Thursday. "These are the kinds of people that I threw out of bars all the time."