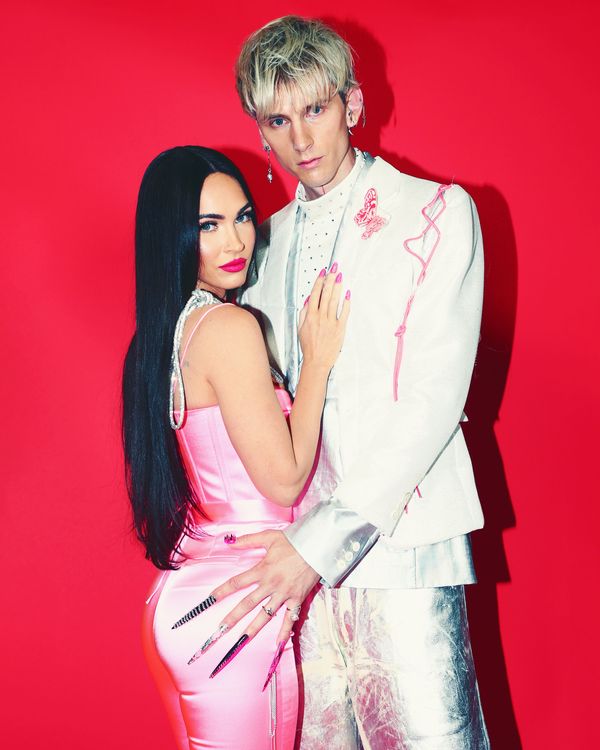 Photo: Phillip Faraone/Getty Images for iHeartMedia
Famously horny couple Machine Gun Kelly and Megan Fox showed up to the iHeartRadio Music Awards on Thursday night looking like the Warped Tour version of Barbie and Ken. Fox wore a bubblegum-pink jumpsuit and MGK displayed some gloriously long nails. Overall, an excellent look for the two of them.
The couple didn't show quite as much PDA as they did at the Billboard Music Awards earlier this week — perhaps the long nails were a deterrent? Thus, the competition for Horniest Couple continues!
It's been a year since the actress and singer confirmed their relationship, and the two appear to be as horny as ever. In addition to winning Alternative Rock Album of the Year last night and taking home the award for Top Rock Artist at the BBMAs earlier this week, the couple won for Best Tongue Collab as voted by me.
Their horny fashion was also unmatched at the BBMAs show. Fox defied the laws of physics in a black Mugler gown with a sheer, ruched midi skirt. MGK painted his tongue black — very Lorde at the 2014 Grammys — and wore what People called a "deconstructed" tuxedo. I'm presuming this is a roundabout way to say his shirt was unbuttoned and his bare chest exposed. My only criticism is that he did not appear to be wearing Megan Fox's blood orb necklace.
MGK thanked Fox in his BBMAs acceptance speech, referring to her as his "twin love." She preemptively said "you're welcome" on the red carpet by posing for photos with her hand on his crotch.
The couple's primary competition for the So You Think You Can Be Horny? championship are fellow unexpected couple Travis Barker and Kourtney Kardashian. They are currently leading in the categories of Thumb Sucking and Personalized Orgasm Candle. This latest show by MGK and Megan Fox put both couples in a dead heat for the horny throne. However, the apparent dark-horse throuple that is Taika Waititi, Rita Ora, and Tessa Thompson may pose a late-competition threat.
Your move, Kourtney and Travis.