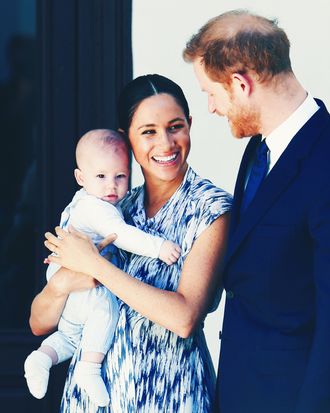 Can you believe that baby is two!
Photo: Pool/Samir Hussein/WireImage
On May 6, 2019, Meghan Markle and Prince Harry welcomed a cherubic Taurus babe, a boy by the name of Archie Harrison Mountbatten-Windsor. Today, he turns a whole 2 years old, an occasion that his parents are marking with a fundraiser to improve access to COVID-19 vaccines in underserved communities and countries.
"We cannot think of a more resonant way to honor our son's birthday," the Duke and Duchess of Sussex wrote in a statement announcing the fundraiser. Between now and May 16, if you donate to Gavi, the Vaccine Alliance, three charities — the Mastercard Impact Fund, the Seadream Family Foundation, and an unnamed organization — will each match the contribution up to $1,000,000 each. Meaning, if you give $5 — the approximate price of one vaccine — your donation will turn into $20.
It is an admirable way to celebrate Archie's birthday, given the dismal state of COVID-19 vaccine distribution and accessibility in many parts of the world. "As of today, around 80 percent of the nearly one billion COVID-19 vaccine shots that have been given were administered in wealthier countries," Meghan and Harry write in their statement. "While we may feel that normalcy is around the corner, we remind ourselves that in much of the world, and especially in developing countries, vaccine distribution has effectively yet to start."
While it is incumbent on those in power to address global vaccine inequity — President Biden saying yesterday that he supports waiving IP protections for vaccines was an encouraging development — it feels nice to chip in what you can to help. Also, by donating, it's kinda like you're wishing the royal baby himself a happy birthday. Happy birthday, Archie, truly cannot believe you're already 2.