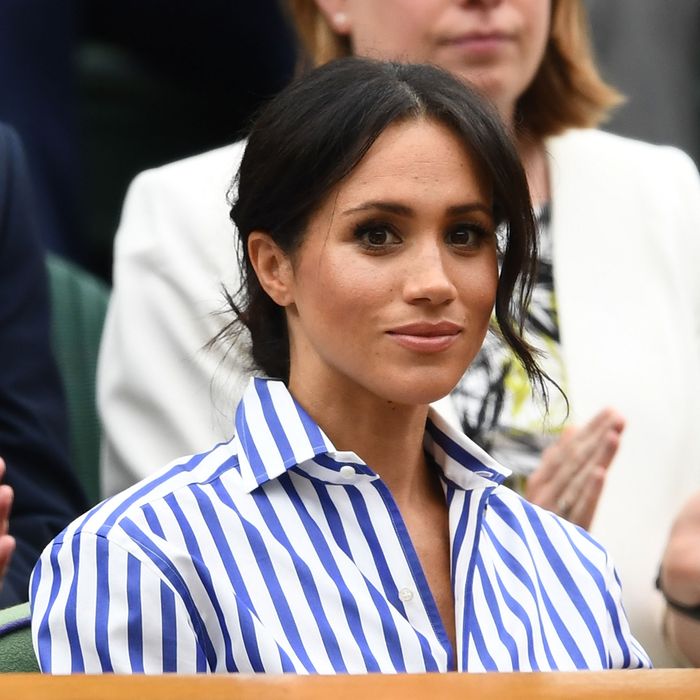 It never ends!
Photo: Getty Images
Some people, particularly those who grant interviews to British tabloids, simply love to criticize Meghan Markle at any given opportunity. She serves avocado toast; she is accused of inadvertently funding violent drug cartels! Her husband decides to pull back from his role as a senior royal; she is accused of architecting a "Megxit"! She writes a children's book; she is accused not only of plagiarism, but also of being a hypocrite about dads! It never ends!
Meghan, you see, just announced her forthcoming children's book — The Bench, out June 8 — about the "special bond between father and son as seen through a mother's eyes." Per Penguin Random House, the story will "capture the evolving and expanding relationship between fathers and sons and reminds us of the many ways that love can take shape and be expressed in a modern family." Meghan herself says the book "started as a poem I wrote for my husband on Father's Day the month after Archie was born," and grew from there. Sure! Yes! Makes sense to me. But not, it seems, to the royal biographers who shared their opinions of the premise with the U.K. Sun.
"It's very easy to talk about relationships between fathers and sons when they are 2 years old," notes Penny Junor, author of All the Queen's Corgis. Calling Meghan's book "schmaltzy," Junor suggested to the Sun that, because Meghan is estranged from her own father, an active participant in his daughter's tabloid harassment, writing about fatherhood was a bridge too far. "She is on dodgy ground because of her relationship with her father and Harry with his."
To which Angela Levin, author of Harry: Conversations With the Prince, added: "Once again we have the hypocrisy of Meghan and Harry saying one thing but not doing it themselves." Although Meghan and Harry very much are doing it, if "it" means being a mother and a father, Levin added: "I don't know how you can write about a boy, a son or a father, when you haven't spoken to your own father for years. It is extraordinary."
The argument that a person who grew up with a demonstrably bad parent will never understand what good parenting looks like is both ridiculous and offensive to a lot of people raising children; I won't spend any more time on it. Instead, I will turn to the plagiarism camp, which is out here complaining that Meghan ripped off another children's author in both concept and design. Per the Daily Mail, Twitter trolls have drawn comparisons between The Bench and The Boy on the Bench, by Corrinne Averiss, a story about "feelings, friendship, and having the courage to join in."
To some, the two covers look vaguely similar, in that they are … not photorealistic, I guess? And in that both involve benches? Anyway, Meghan's The Bench features watercolor images from Christian Robinson, who won a Caldecott Honor and a Coretta Scott King Illustrator Honor for Last Stop on Market Street. Averiss's book features cartoonlike illustrations by Gabriel Alborozo. As Averiss herself clarified in a statement: "Reading the description and published excerpt of the Duchess's new book, this is not the same story or the same theme as The Boy on the Bench. I don't see any similarities apart from the use of a bench — which exist in as many stories as they do parks and gardens."
Let that be the end of it!