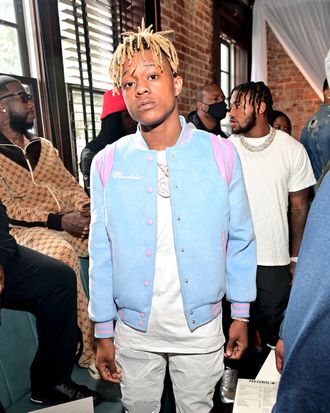 Metro Marrs
Photo: Picasa/WireImage
At his high-school graduation on Friday, 18-year-old rapper Metro Marrs decided to do his classmates a kindness and shower them with $10,000. Yes, I know, free money! A very practical gift as everyone embarks on their post-grad lives, for which he in turn received … rioting accusations from the police. Hmmmmm?
According to TMZ, which published a video of the generous display, Marrs took the stage at Atlanta's Langston Hughes High School with his pants full of cash — incredible already, how could you punish him? — which he tossed into the air, fistful by fistful, as his classmates cheered below. Some people stood up, but all in all, footage from the event shows a pretty tame response. School officials didn't approve, though, and escorted Marrs off the stage. While the crowd chanted "let him go," police walked Marrs off the premises, detaining him for alleged disorderly conduct and incitement of a riot. According to Complex, he may receive a fine.
But truly, what gives? Marrs told the Shade Room that he waited until everyone else had walked before he took the stage, so it wasn't like he was stealing anyone's spotlight. And then, he said he hadn't seen his classmates in person all year because of the pandemic. The rapper, who signed with Quality Control at the age of 17 and shot the video for "Bye Felicia" at the school, added that he was simply trying to give back. "I was creating a moment that would be memorable," he said. "I had to do that for the last time. Everybody was lit!"
Anyway, Marrs said he regrets nothing. Nothing!