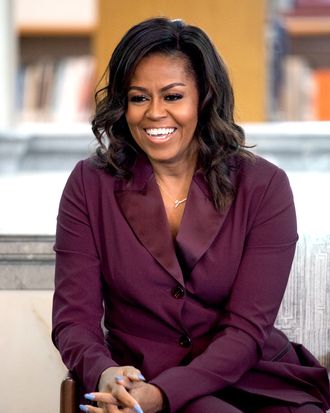 Michelle Obama
Photo: Jim Bennett/Getty Images
I am impressed, envious, and not at all surprised to learn that after about a year of knitting experience, Michelle Obama has already mastered my most coveted garment of summer 2021: the knit halter top. The former First Lady updated Gayle King on her progress during a CBS This Morning interview on Monday. Obama and King discussed a number of more serious topics — Derek Chauvin's conviction for murdering George Floyd; Obama's fear for the racism her daughters face — but they also made a few minutes to talk about Obama's pandemic hobby. King was skeptical because, to her, knitting as a concept "sounds very old lady." Obama was undeterred.
"Don't get me started because I don't want to bore people with my little knitting," she says, her eyes lighting up as she continued: "I made Barack a sweater, a crewneck sweater, that he loves." What else? "I made halter tops for Malia and Sasha that they love."
In September, Obama disclosed to culinary personality turned talk-show host Rachael Ray that she had taken up knitting during quarantine. Under an assumed name, she had been sourcing patterns through online "knitting tutors," and had already created a large pile of knits: A blanket, "like five scarves," a pair of mittens, "a couple of hats for Barack," and — drum roll please — three (three! going-out tops for everyone!) halter tops. Particularly when we are talking about someone who is about six months into a new craft, Obama's inventory represents a remarkable output, but really it's the commitment to halters for me. Drop the knitwear collection, I beg!