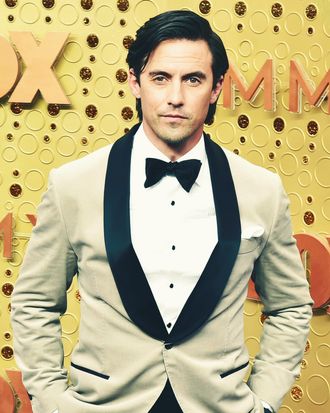 Famous short-shorts–wearer, actor Milo Ventimiglia.
Photo: David Crotty/Patrick McMullan via Getty Image
Call to mind that glorious photo of actor Milo Ventimiglia leaving a West Hollywood gym in the shortest of shorts, ones that effortlessly accentuated his pumped-up, yolked thighs. Yes, you know the image. The one the New York Post referred to as "dangerous," and that inspired some of the thought leaders among us to proclaim that we were on the cusp of a (long overdue) "thigh guy summer"?
Run me over with a car? Forget that. More like, Mount me like a hip-adduction machine and crush me between your inner thighs until I emit my last gasping breath.
Anyways! The man behind the shorts has finally spoken at length about the viral images. First of all, the This Is Us actor disputed the characterization that his shorts — which left at least 90 percent of his thighs exposed — are notably short. They're actually "normal length," he said on a recent episode of The Talk. And in response to us comparing his ballooned muscles to those of, say, a chiseled Greek god? He counters: "I swear to God this is just a guy leaving the gym."
Well, fair. In that photo, he is, objectively, a "guy leaving the gym." And perhaps his shorts can be what he considers to be "normal length" — though not the way he wears them. Just last week, he posted a photo of the pair to Instagram, bearing the caption, "Ride em high kids." During his appearance on The Talk, he also admitted that when he exercises, he does "kind of fold them up" so he can "work a little harder." In fact, the habit has become a little "joke" between he and his gym buddies. He explains: "We all know one another … you know, get under a bar or get on a machine or something, and my shorts get hiked up really high, then everyone kind of hoots and hollers."
And he claims that he wasn't "expecting" us to revere his thick thighs and the shorts that brought them to our attention? Hmm.
In any case, Milo, thank you for your service.