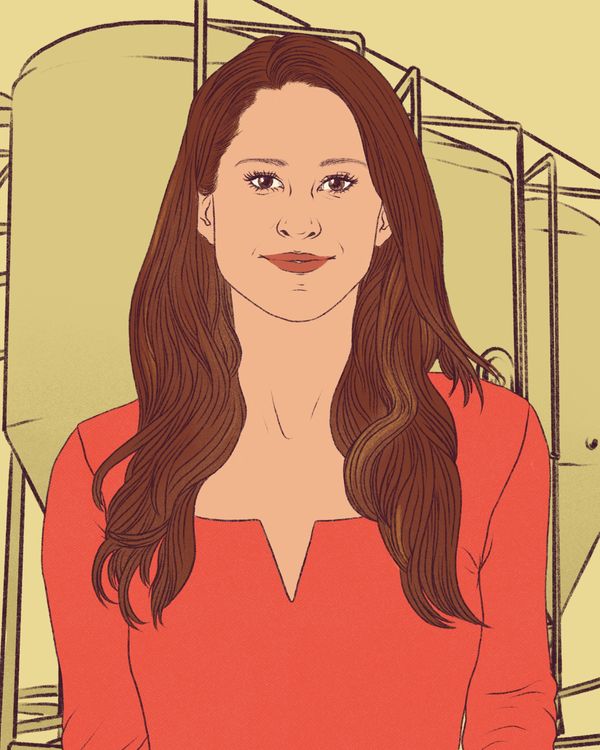 Bridget Connelly, Luna Bay CEO and co-founder.
Illustration: Rachelle Baker
Some people drank more over the last year; some quit drinking entirely. Personally, I found myself putting more thought into how and what I was drinking — "mindful sipping," as they call it. That led me to Luna Bay, a hard-kombucha business founded in 2019 in Chicago, Illinois.
Hard kombucha is a beer replacement for me. I have a gluten intolerance, so I'll drink one 6.5 percent ABV can instead of a pale ale. It gives you a light buzz, but it feels healthier. Like regular kombucha, the hard stuff is made through a fermentation process that produces probiotic bacteria, which can help reset your gut health and prevent harmful bacteria from taking over.
A hippie-ish alcohol brand in a competitive, male-dominated business, Luna Bay is run by a mostly female team whose members have backgrounds in holistic health, sales, marketing, production, and microbiology. The brewers use whole ingredients and pure yerba mate, which give the product a flavor that makes it stand out from other booch on the market. "We use all non-GMO ingredients, which I think is even better than organic," says CEO and co-founder Bridget Connelly, 34. "We work with a farmer in Michigan to get the non-GMO and high-quality real ingredients. We use real blueberries, real hibiscus, real lavender flowers — they're not extracts." 
Connelly believes she's on the cusp of a new era of alcohol distribution. "You'll see more and more women in places of leadership within alcohol companies. We're already seeing it in the distribution world," she says. "Things are changing, and it's a really fun time to be a part of this." Below, she talks to the Cut about getting into the booze business, learning how to raise money, and the moment she finally felt like her company was a success.
On how she got into the booch business:
The idea of hard kombucha fit everything that I was interested in: health and wellness, bringing people together, storytelling, content creation. I started thinking about it when I was living in Australia. People really like to have fun there, but even in this health-conscious community, beer and wine were the only options. Then I moved back to San Diego three years ago, which is when [hard kombucha brands] JuneShine and Boochcraft launched. Seeing other brands take off with this model, I was like, This makes sense. It's a health-conscious drink — better-for-you booze. I saw people doing it in Southern California, and I wanted to take it home to Chicago, where I'm from.
On the power of having a partner:
Claire, my co-founder, is a very positive and hopeful person, so at times when I would just be like, Are we ever gonna figure this out? she'd be like, Yes, we are, we believe in it, and we kept pushing each other along. Once we found Pilot Project, which was the brewery that first incubated our brand, it felt like, Okay, this is happening. Then, the moment that we got Whole Foods onboard and we saw the product on the shelves, we knew we were onto something, because not only did we believe in it, but corporations, big stores, and retailers wanted it as well.
On learning the ropes:
It's funny — you look at any CEO and you're like, They know it all, but no one knows what they're doing. Everyone is just figuring it out as they go. For me, it was like extreme business school. I had to learn how to make a deck, make a pitch, all these things. Claire and I, in the beginning, had a shared doc and we would take notes. I found other brands that I aligned with on LinkedIn and reached out and asked for 15 to 20 minutes of their time.  People are usually kind because everyone's been there. You just have to ask and be okay with getting a no.
I remember one of my friends started an alcohol company in New York. He was three or four years ahead of me, with a very successful company. The day that we got on the shelves of Whole Foods, I called him just so excited, and he said, "You're on the first high of the roller coaster, but it'll come crashing down." Not that he was trying to bring me down — he was happy for me, but he wanted me to know this is what it's like. It goes up and down. It was a humbling moment, like keep your pride close and, you know, buckle up.
On fundraising:
Even before starting Luna Bay, I've always tried to learn about different types of ways to raise money. Once you have an idea or a business plan, you can build it out and show your trajectories, and then you can go back to starting to raise. It's a lot of networking, a lot of understanding who's in the consumer packaged-goods space, and who are strategic investors. Once we had the product, the plan, and Whole Foods onboard, the next step was finding the right investors. Networking, and seeing who has invested in brands that you admire, are key to the learning process. You can look a lot of that up online.
On how she defines success:
There were just so many hard things the first year, trying to get people to believe in us, trying to find the right distributors, trying to understand how any of this stuff works. So I didn't feel like it was real until we got retailers and distributors onboard and we saw the product on the shelf at Whole Foods. When you actually see other people drinking it and enjoying it, that's a special moment.
Success for me is creating something that I believe in, and bringing people together on my team that also believe in it. I feel so lucky that I have the team that I do. That's what makes me the most proud and excited about what we're building.
On work/life balance:
I've lived in a lot of different places. I have a huge family, and relationships are everything to me. Since I started Luna Bay, there's been this pressure of "Where are you?" and "When are you coming back because we want to do fun stuff with you?" Getting comfortable with the fact that I can't see everyone has led me to lose friendships. Some of my relationships have grown distant, romantically and emotionally.
All you have is your company, your team, and yourself. I'm definitely getting to a place now where I have healthier boundaries and enough infrastructure in place that I don't feel like I'm carrying everything on my own. I've had a lot of self-doubt, and just being mad at myself for not showing up for people all the time. In a way it's been good to go inward and realize what's most important and which are the relationships I need to prioritize. Relationships have definitely been the most difficult part, but I know the people who understand what I'm doing will always be there for me.