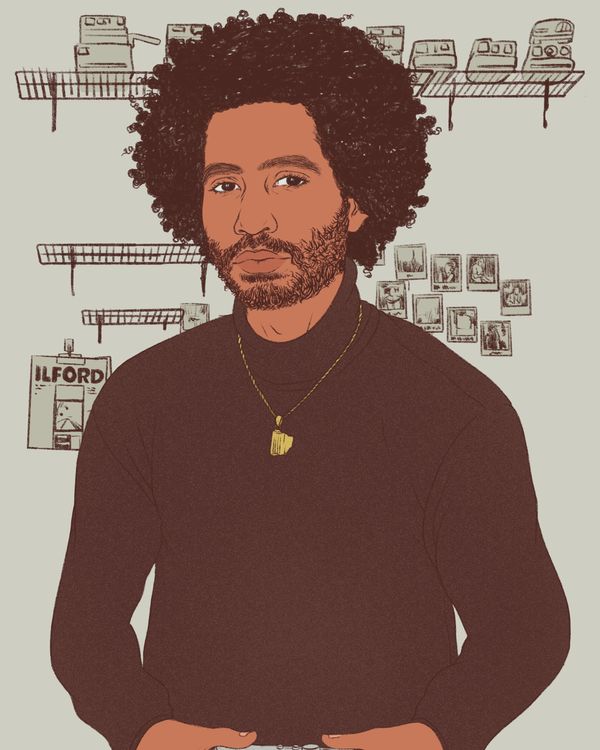 Dominick Lewis, owner and founder of Photodom.
Illustration: Rachelle Baker
Dominick Lewis is the owner and founder of Photodom, an analog-focused photography store that processes film. A photographer himself, Lewis knows what his fellow artists need and the way other photo stores neglect those needs. "There aren't really things that are tailored towards people like me, especially in the photography industry. We're different from the mom and pop stores that have been around for decades," Lewis says. The guiding philosophy of Photodom is simple: Give the people what they need.
Located at 1717 Broadway in a prime location right next to the J train, Photodom opened last September during the height of a global pandemic. Despite that, the business is successful. Very successful, actually. The store is a neon-drenched dreamspace that sits a few flights up in a communal artist building. It has typical photography equipment — cameras, film — but also the practical everyday materials a lot of photographers depend on that other photo stores don't stock. Items like rolling trays, mouse pads, books, tote bags, and apparel. Photodom even offers classes and workshops for those who wish to learn more about their craft. Lewis talked to the Cut about what it took to start his business, where it is now, and where he wants it to go in the future.
On getting the idea to open Photodom:
What inspired me is that there weren't really things that were tailored towards people like me. I worked at a camera store in Brooklyn for three years, and working in that environment I noticed the things that they weren't tapping into. Things I knew that my audience would love and they never understood because the owners weren't photographers themselves or they just weren't in my age range. I felt something like Photodom would have been super niche and super different from the norm that you see with a lot of other camera stores.
On the reactions to opening during a pandemic: 
I would say there were probably some people who were thinking, "it's not a market that you want to get into right now. A lot of camera stores are closing." But overall, most people were supportive of the idea. I was talking to a lot of people about putting our dollars collectively into our own things. Having that ownership is super important.
On how he secured the finances to open the business:
We crowdsourced prior to opening. I had the space secured and I was getting ready to put everything together and about a month before we opened I decided, "let's do a GoFundMe," because seeing the support from the community and having their backing is important. We hit our goal in less than 48 hours. Crowdsourcing enabled us to get more than I'd imagined inventory-wise, because inventory is the biggest thing when it comes to owning a retail store. It gave us everything we needed to get off the ground running.
On experiencing burnout and knowing when to clock out:
Balance is one of the biggest things that I'm still learning. For the first three months I didn't take a day off. I felt like for the first month I was super behind and needed to get more things done. It was just like nonstop to the point where I needed to balance my life in order to survive, you know?
I'm aware of burnout now, which is the biggest thing. Being aware of it means I can manage my life better knowing when it's time to go home or take certain days off. It sounds weird but I had to learn to use my employees instead of just trying to do everything. Instead of running to go help every customer I can be like, "can you go help this customer and, and I'll help this one?" I'm learning delegation and I feel like that's one of the most important leadership qualities to learn.
On the setbacks that come with a new business: 
Our biggest setback initially was not fully comprehending everything it takes to run a lab properly and underestimating how many people were going to really support us. On our first day people dropped off like 50 or 60 rolls [of film] so for the first three months we were processing by hand. Our turnaround time was like two or three weeks at some points. Now it's smooth sailing and it takes less than 24 hours for customers to drop off their rolls, have them developed, and get them back. That was one of the biggest hurdles, not underestimating the workload.
On when he first felt his business was successful:
Honestly, after the first day seeing how many people were waiting outside, we had a line wrapped from the first floor up to the store. It was nonstop, too. I was in there the entire day and it never stopped. I was just thinking to myself, Wow, this reception is absolutely insane. The second day I was running, like, two minutes late and when I got there I saw another long line.
On what he attributes this success to:
It makes me wonder: In a post 2020 world, what do we desire? And I feel like one of those things is photography. It's one of those things that a lot of people always wanted to get into and never had the time. Well, in these COVID times, a lot more people have that time now or are getting into this now because they're thinking "what do I have to lose?"
On how many employees he had in the beginning:
At that point it was just me and an assistant I had helping me do online orders. I knew I had to build some kind of team. I hired a lot of my friends initially. One of my friends worked in customer service so she handles the phones. Another one of my friends is skilled in making clothing. We both had brands prior so he's helping us make the clothing and fulfilling orders. Another had a dark room so now we share it.
On the future of Photodom:
I definitely see Photodom growing to multiple locations around the city that I feel are underserved. A lot of my customers are coming from the Bronx; there are so many neighborhoods where there aren't a lot of camera stores. It's a lot like where I grew up in south Florida. Basically, wherever there are artists that need our resources — we want to be open [for them].