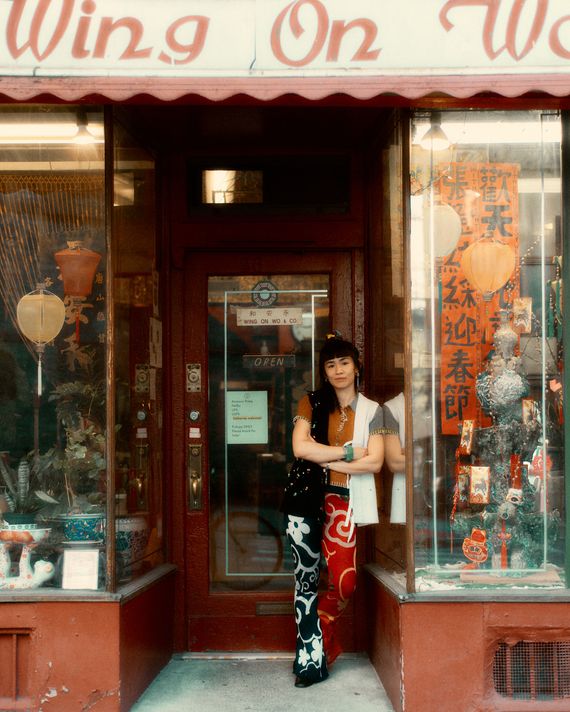 Back in 2016, Mei Lum had a choice: either go to graduate school at Columbia University and study international development or take over Wing On Wo & Co., the Chinatown business her great-great-grandfather Walter Eng founded in the 1890s. Lum's grandmother Nancy Seid, who adopted the store in 1964 after her father had a sudden heart attack, was ready to retire, and no one else in the family wanted the responsibility. But the red storefront at 26 Mott Street was where Lum had spent most of her life, and she wasn't ready to give it up.
"The shop has always been kind of like an informal family living room for us," she said one afternoon this spring. On the day I visited, Lum's great-aunt Betty, 88, the shop's unofficial "security guard," screened me at the door. Her father, Gary, was behind the counter and attending to customers, which he has done for the past 30 years. Meanwhile, Lum, who now lives upstairs (the family owns the entire building), was back in the kitchen preparing dinner for everyone — something she does multiple times a week.
"It's a space where we keep track of each other," she continued. It's where the whole family gathers to celebrate birthdays, anniversaries, and other life milestones. She remembers sitting in the kitchen, where there used to be a barbecue pit, having after-school snacks with her grandfather, who died last year at the age of 96. He also taught her Chinese in the back office. "The significance of this space has always been very grounding for me and who I am and who I've learned to become," she said. Grad school could wait.
So at 26 years old and with zero formal training — and, frankly, zero former interest — in running a business, Lum became the fifth-generation owner of Wing On Wo & Co., which now mainly sells porcelain goods and remains the oldest-operating store in the neighborhood. When she first started, "the business was waning, and there wasn't as much interest," she said. "It definitely needed a boost of some online presence and marketing." But Lum didn't want to give the store an overhaul.
"I could have come in and completely changed the whole business," she said. "I could have been super-millennial about it and turned everything very clean and minimalist. But that's not who we are, and that's not our story."
Instead, Lum doubled down on Wing On Wo & Co.'s roots. Originally, when the shop was located across the street at 13 Mott, it served as a general store, an informal post office, and a credit union. It also sold a small selection of porcelain. But the storefront was also a gathering space for the neighborhood, which at the time was just four square blocks. People would come to shop but also to gossip, swap stories, and eat together.
It's this community aspect that Lum is most interested in keeping alive. Also in 2016, she founded the W.O.W. Project, a resident-led initiative with the mission of "creating space for conversations to happen across language barriers and generational gaps to actively shape the future of Chinatown." The store has hosted panel discussions about the role of art and social change, screenings showcasing Asian American women filmmakers, and several Chinatown storytelling open-mic nights, which have attracted over 1,000 guests. Before each event, Lum would take a photo of how every surface in the shop looked so that later she could put it back exactly how she left it. She also started an annual ceramicist fair to carry on the porcelain legacy and educate consumers about the craft as well as an annual storefront artist-in-residency program, which includes a stipend, access to the store's basement studio space, an opening reception, community workshops, and an artist talk.
"Yes, it's a storefront and we're selling products and working with artists. But we also have a higher social mission of staying here, resisting gentrification and displacement, and also challenging folks to think about what the storefront can contribute outside of pure economic exchange," she said. "That's been really fulfilling for me and is keeping me going."
During the pandemic, maintaining a strong sense of community and organizing around social-justice issues became even more urgent. The W.O.W. Project facilitated a number of fundraisers and events for organizations like Red Canary Song and Communities United for Police Reform, donating a percentage of its monthly sales (10 percent to 15 percent), or a percentage of sales from specific products, to them. It also supported local businesses through the W.O.W. Project's From Chinatown, With Love project, which includes a Lunar New Year calendar highlighting establishments in the neighborhood.
As for its own business, Wing On Wo & Co. was forced to take most of its sales online when the city went into lockdown. Lum's mom, Lorraine, who previously worked in fashion, now helps manage the website's back end, processing orders, and her dad oversees shipping and handling. The store's office has turned into something of a co-working space. "My mom's desk is a mah-jongg table," she said with a laugh.
And her grandmother is still involved too. Lum created a video series on Instagram called "Po's Picks," in which Seid shows off different pieces in the store that she really loves, Vanna White style. (Po means grandmother in Chinese.) "Growing up, she would always have QVC on the TV in the kitchen," Lum explained. "So I was like, 'Pretend you're on QVC.'"
Although the past year hasn't been easy, the combined effect of e-commerce and social media has brought in a whole new audience for Wing On Wo & Co. "The pandemic really asked me as a business owner to rise to the occasion and figure out how to make this work," Lum said. "It's made me realize how many people really want to support us, and show up for us, and buy our products, and really resonate with our story."
That includes large corporations, which have reached out to collaborate over the course of the past year. With her family's guidance and support, Lum has learned that it's "okay to say 'no'" and to continue to do things on her own terms.
That said, she is realizing she can't do it alone. "I've been trying to think about longevity and sustainability in this work. And if I'm seriously thinking about this as a long-term job and career for myself, if I'm committing to that, I also have to commit to practices and building systems that support that," she said. In the near future, that means hiring somebody outside the family to help out — something they've never done before. "They're going to have to have thick skin," she joked.
Initially, Lum planned to reopen Wing On Wo & Co. in April, but with all the anti-Asian violence happening, she decided to push it to June. The store has seen many challenges since 1890, but each generation has found a way to continue on. "I think in the first couple of years, I just felt like I needed to prove to myself that I could do it," Lum said. "I'm definitely not a businesswoman; I don't know what that means. Everyone is making it up as they go and figuring out what's best for them. That's what I've learned over the past five years: Listen to your gut, and trust what feels right."