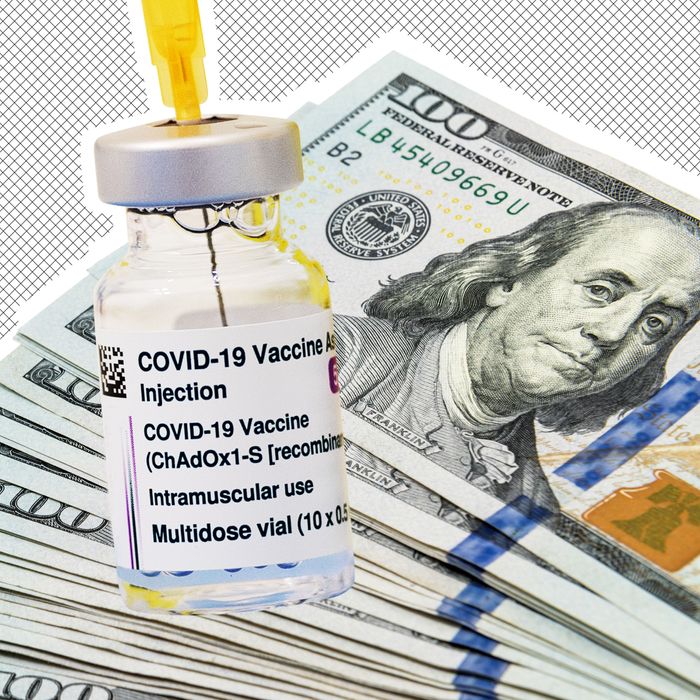 Photo-Illustration: The Cut. Photos: Getty Images
What will it take for Americans to get vaccinated? Free beer? Concert tickets? A pound of crawfish? How about a literal million dollars? In the latest effort from a local government begging its residents to please, for the love of free stuff, get the COVID-19 vaccine, Ohio is giving away $1 million to five adults who get vaccinated. Welcome to Who Wants to Be a Millionaire: Dystopian Edition.
Starting May 26, the Ohio Lottery will conduct the million-dollar drawings on Wednesdays for five consecutive weeks. Each of the five selected winners will get $1 million, paid from the state's federal coronavirus relief fund. The contest, sponsored by the Ohio Department of Health, is open to Ohio residents 18 and older who have gotten at least one dose of the coronavirus vaccine. So, who wants to go halfsies on a house in Cleveland?
As part of the program, Ohio will also award five full-ride public-college scholarships to vaccinated residents under 18. The FDA recently approved the Pfizer vaccine for children as young as 12.
With experts saying herd immunity is now unlikely, Ohio is far from the only state encouraging its residents to get vaccinated with the promise of cash and freebies. The Kentucky Lottery is giving away free lottery tickets to vaccinated residents. Detroit is rewarding residents who drive people to vaccine appoints with $50 cash cards. Vaccinated New Yorkers can get free or discounted tickets to attractions like the Bronx Zoo and Brooklyn Botanical Garden. Maine is offering its vaccinated residents free hunting or fishing licenses as well as L.L, Bean gift cards, which feels a little on the nose, but alright. If you get vaccinated in D.C., you could get a free joint.
To no one's surprise, money is an effective a motivator in getting people vaccinated. A recent experiment from UCLA found people were more willing to get a vaccine when offered $25 to $100. Democrats appeared to be more persuaded by cash incentives while relaxed COVID-19 safety guidelines (e.g. more lax face-mask rules) were more motivating to Republicans in the study.
On Wednesday, Ohio Governor Mike DeWine acknowledged that potential critics of the "Ohio Vax-a-Million" may call the contest "a waste of money." "But truly," the governor wrote on Twitter, "the real waste at this point in the pandemic — when the vaccine is readily available to anyone who wants it — is a life lost to COVID-19."