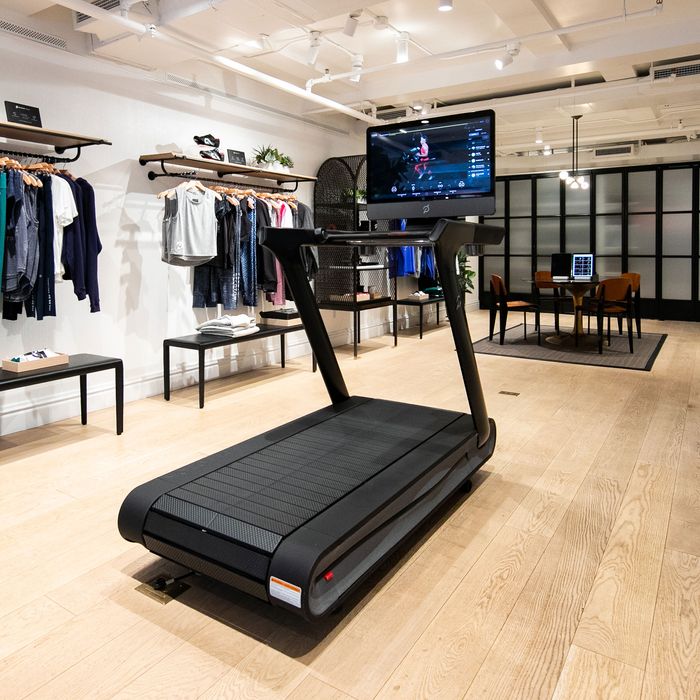 Peloton's Tread+ treadmill.
Photo: Bloomberg via Getty Images
After nearly 30 children injured themselves on Peloton's treadmills, including a 6-year-old who died on the machine, the luxury home-exercise company has finally agreed to recall its Tread+ from the U.S. market.
The decision, reported by the Washington Post, comes as a surprise. For weeks now, Peloton has been locked in a fierce back-and-forth with the U.S. Consumer Product Safety Commission, which has been calling on the company to recall its Tread+ — which retails for $4,300 — over mounting safety concerns. In mid-April, the agency issued an "urgent warning" to those in possession of the treadmill, urging consumers with young children to stop using the machine immediately. At the time, the agency had been informed of 29 incidents of kids injuring themselves on the treadmill — by "becoming entrapped, pinned, and pulled under the rear roller of the product" — including one 6-year-old who died. "CPSC staff believes the Peloton Tread+ poses serious risks to children for abrasions, fractures, and death," the statement continued.
Peloton did not heed the calls — instead, the company went on the defensive, calling the claims "misleading" and "inaccurate." The stance proved to be a huge miscalculation: As public backlash mounted, the company's stock price plummeted. Despite the financial repercussions, the company refused to revise its position, and the CPSC reportedly began to prepare a lawsuit. But eventually, Peloton approached the agency, willing to compromise.
On Wednesday, the CPSC and Peloton issued a joint statement, announcing that they had reached a voluntary agreement and that Peloton would recall the Tread+. "I want to be clear, Peloton made a mistake in our initial response to the Consumer Product Safety Commission's request that we recall the Tread+," John Foley, Peloton's chief executive, said in the statement. "We should have engaged more productively with them from the outset. For that, I apologize." (At the time of the recall, in total, the CPSC had received 72 reports of injury involving adults and children, as well as pets.)
Those who shelled out thousands for the machine are entitled to a full refund "or other qualified remedy." If consumers wish to keep their machine, the statement continues, Peloton is offering free software and safety improvements. In addition to the Tread+, Peloton is also recalling its newest treadmill, the Peloton Tread.
This post has been updated.