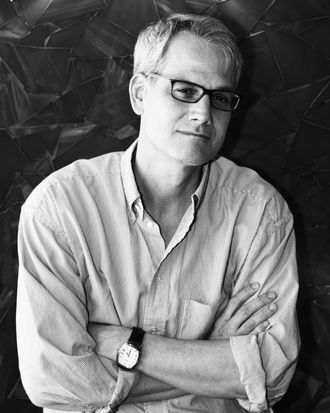 Blake Bailey
Photo: Allen J. Schaben/Los Angeles Times via Getty Images
On Tuesday, the publisher W. W. Norton & Company took what the New York Times characterized as "an extraordinary response to allegations against [an] author": It announced it would permanently take a best-selling biography of author Philip Roth out of print. The announcement came after a growing number of women came forward with disturbing allegations against the author — Blake Bailey, acclaimed for his literary biographies — accusing him of sexual assault. Among the accusations are claims that he groomed his female middle-school students when he was a teacher in the 1990s and that he raped a publishing executive as recently as 2015. Meanwhile, Bailey, 57, has denied the allegations as "categorically false and libelous." Here's how it all unfolded.
Bailey's Roth biography was published April 6 and immediately became a best seller.
Bailey is known for his biographies of major literary figures, including Richard Yates and John Cheever, the latter of which was a Pulitzer finalist. The April 6 release of Philip Roth: The Biography was treated as an event in the literary world, not just because it was highly anticipated, but because it presented an occasion for critics to revisit and rehash Roth's place in the literary canon. The 900-page book received generous coverage across major newspapers and magazines; the Washington Post, for example, called it "a colorful, confident and uncompromising biographical triumph." Though not all reviews were so positive. In The New Republic, Laura Marsh wrote that Bailey took too sympathetic a view toward Roth's treatment of women, both in his books and in real life — and intentionally, it seems. As New York Times critic Parul Sehgal noted in her review of the book, Bailey claimed at a 2019 panel that he convinced Roth to let him pen his biography after assuring Roth that he would not take "too prim or judgmental of a view of a man who had this florid love life."
Multiple former students came forward accusing Bailey of grooming them for sex.
The allegations against Bailey first surfaced in the comments section of a book review Ed Champion wrote on his blog. Users who identified themselves as former students of Bailey — who taught eighth-grade English in the 1990s at Lusher Middle School in New Orleans — posted comments accusing him of grooming, abusing, and raping his former students.
The allegations in the comments section went on to inform reports published on April 20 in The Times-Picayune | New Orleans Advocate and the Los Angeles Times, which spoke to some of Bailey's former students. Three women told the Times-Picayune that Bailey fostered inappropriate relationships with them at Lusher and groomed them for future sexual relationships once they had entered early adulthood. The women allege that Bailey would make flirtatious comments toward them and would often ask, "Have you punched your V-card yet?" One former student, Eve Crawford Peyton, accused Bailey of raping her when she was 22 and afterward telling her that he'd wanted to do that since she was in eighth grade. According to the Los Angeles Times, Peyton also wrote an open letter about the situation, describing Bailey's conduct as "something of an open secret," accusing him of "[using] our trust in him against us in the cruelest and most intimate way possible." In an interview with the Times, another student accused Bailey of grooming her and his other "class pets."
In a statement, Bailey's attorney denied that his client groomed students for future sexual encounters, calling the allegations "false, hurtful descriptions of conduct between adults." Bailey echoed the denial in an email to the Times, decrying the accusations as "totally false."
A publishing executive alleges that Bailey raped her in 2015.
On April 21, the New York Times published its own report, including a new allegation from publishing executive Valentina Rice, 47, who was not one of Bailey's former students. She claims that during a stay at the home of a Times book critic in 2015, Bailey entered her room after she had retired for the evening and raped her while she repeatedly cried out "No" and "Stop." In an interview with the Times, one of Rice's friends recalled Rice telling her a week after the party that Bailey had sexually assaulted her.
During the height of the Me Too movement three years later, Rice told the outlet, she reached out to a Times reporter and the president of Norton through an anonymous email account, alleging that Bailey had raped her. "I have not felt able to report this to the police but feel I have to do something and tell someone in the interests of protecting other women," she wrote to the reporter. "I understand that you would need to confirm this allegation which I am prepared to do, if you can assure me of my anonymity even if it is likely Mr. Bailey will know exactly who I am."
Rice never heard back from the publishing company. Instead, a week later, she received a response from Bailey himself, who, per the Times, had been forwarded her message. "I can assure you I have never had non-consensual sex of any kind, with anybody, ever, and if it comes to a point I shall vigorously defend my reputation and livelihood," he wrote to her in an email. "Meanwhile, I appeal to your decency: I have a wife and young daughter who adore and depend on me, and such a rumor, even untrue, would destroy them."
Per a Norton spokesperson, the publishing company took the allegation "seriously." She continued: "We were aware that the allegation was also sent to two people at Mr. Bailey's former employer and to a reporter at the New York Times, a news organization that was well equipped to look into it. We did take steps, including asking Mr. Bailey about the allegations, which he categorically denied, and we were mindful of the sender's request for a guarantee of anonymity."
In an email to the Times, Bailey maintained his innocence, calling the allegations "categorically false and libelous."
Bailey has been dropped by his agency, and W. W. Norton is taking his books out of print.
As the allegations have mounted against Bailey, repercussions have followed. On April 19, before any women went on the record, Bailey's literary agency, the Story Factory, dropped him. On April 21, Norton announced that they would halt promotion of his book. A week later, the publisher announced that it would permanently take the biography out of print, along with The Splendid Things We Planned, Bailey's 2014 memoir. "As a publisher, Norton gives its authors a powerful platform in the civic space," Norton's president, Julia Reidhead, wrote in an email to staff. "With that power comes responsibility to balance our commitment to our authors, our recognition of our public role, and our knowledge of our nation's historic failure to adequately listen to and respect the voices of women and diverse groups. Reidhead also said that Norton would make a donation in the amount of Bailey's six-figure book advance to organizations that support survivors of sexual assault and harassment.
But Woody Allen's publisher has now purchased the biography.
Despite Norton's decision to drop the book, it will still be coming out in paperback, audio, and electronic formats after Skyhorse Publishing bought the rights. The company announced the acquisition on May 17, and in an email to the New York Times, its president, Tony Lyons, explained his belief that "a biography must be judged by the quality of the writing, the importance of the subject matter, and the value of the scholarship."
"This is obviously an important and comprehensive book about an author The New Yorker called 'a literary genius,'" Lyons wrote. "I'm proud to publish it."
Skyhorse is the same house that picked up Woody Allen's Apropos of Nothing after employee walkouts at Hachette prompted the publisher to drop the memoir. In addition to publishing the disgraced director, Skyhorse has also published Donald Trump's former lawyer, Michael Cohen, as well as Trump defender (and allegedly predatory attorney to Jeffrey Epstein) Alan Dershowitz. According to the Times, Skyhorse plans to put out paperback copies of Bailey's book by June 15. The audio and e-book editions will be released "as soon as possible" — potentially this week.
This article has been updated.