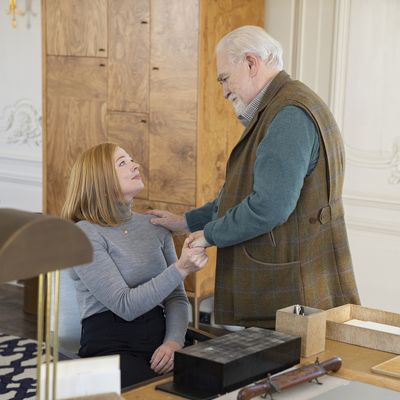 My biological sister and father.
Photo: Peter Kramer/HBO
It has been 571 days since there was a new episode of Succession, and every one has been torture. We have been given small nibbles of what is to come for season three — namely, more tall boys and a blazered Sanaa Lathan. But that is not enough to satiate my Succession thirst.
I crave deception, intrigue, and another twisted round of Boar on the Floor! I must know, once and for all, who will win a kiss from daddy. At the very least, give me behind-the-scenes photos so I can see my short king Roman Roy surrounded by all these Hollywood Talls.
Industry — an HBO show that's like Succession, but make it horny young people at an investment bank — filled a similar void. But oops, surprise, I burned through those eight episodes quickly, too. The Circle season two just ended and I'm left missing cousin Greg more than ever.
Here are three things I would like to see in season three:
1) More! Famous! Talls! For your consideration: Gwendoline Christie (six-three), Jeff Goldblum (six-four), either Hemsworth (six-three), 2 Chainz (six-five), Nicole Kidman (five-eleven but every time she slips into her Australian accent, it adds an inch), and Elizabeth Debicki (six-three).
2) An encore performance from Kendall and DJ Squiggle, which I only just now learned is reminiscent of a 2007 rap by Karl "MC" Rove.
3) The entirety of Willa's play, Sands.
Until the series' rumored return in late 2021, you can find me here writing extensive Roman and Gerri fanfiction.