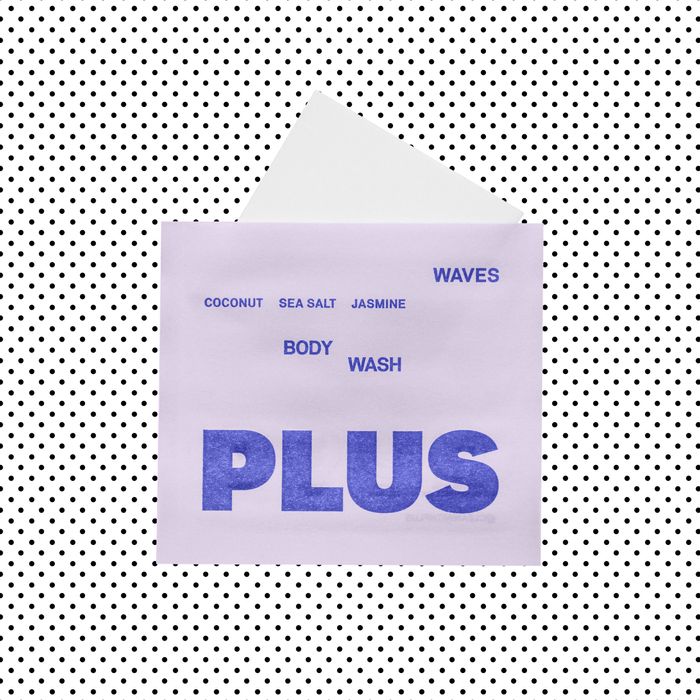 Showering can be kind of boring, right? The moves are always the same: Wash and rinse. Pat and dry. In the right state of mind, it can be meditative. But when you're in a meh state of mind, it feels like a chore.
I've been trying to get out of my meh shower mood for a while now. Podcasts were sort of working. Getting a new showerhead helped a little. But the best solution so far has been using a new bodywash from personal-care brand Plus. It comes in the form of "sheets" — thin slivers of material that feels like styrofoam and activates with water. One palm-size sheet is generously sized for an entire body. It turns out it's pretty fun to take out a sliver, douse it in water, and then watch it become a great-smelling, bubbly wash. (I really like the Summer scent, with smells like neroli, orange, and lemon.)
'80s kids might remember those popular, mildly creepy toys that activated when they got wet, like Waterbabies (dolls that reveal their gender) or Magic Grow capsules (shrink-wrapped capsules that become foam creatures). This is sort of like the beauty version. It's strangely delightful to watch this minor-level alchemy happen in your hand.
Plus is brought to you by the founders of Starface, Julie Schott and Brian Bordainick and CEO Cathryn Woodruff. They're committed to being plastic-free, so the sheets come in single-use paper packets which also dissolve in water — it's a completely waste-free experience. I started bringing them on weekend trips to Airbnbs, gifting them to outdoorsy friends who plan on using coin-operated showers this summer, or using them when I just feel like it. It beats any hotel bodywash, even the fancy ones. On a scale of 1 to Harry Potter-level magic, it's about a -2, but I'll take what I can get here in Muggle land.