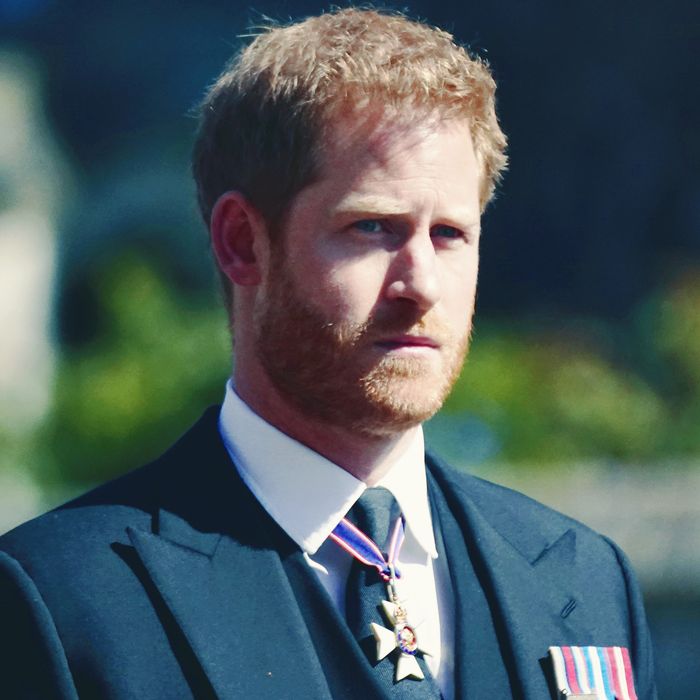 Prince Harry.
Photo: WPA Pool/Getty Images
Ever since he stepped back as a senior member of the royal family, Prince Harry has been airing his grievances about royal life — and, despite growing tensions with the palace, he doesn't show any signs of stopping. During his no-holds-barred interview with Oprah in March, he and Meghan Markle ripped back the curtain on the palace's alleged entrenched racism. And earlier this month, he described life as royal as "a mix between The Truman Show and living in a zoo," in an interview that apparently left the Firm "livid."
Despite the royal family's mounting displeasure, Harry seems to be getting more outspoken in his criticism. In The Me You Can't See, his new mental-health docuseries with Oprah, which premiered today, Harry reflected on the period leading up to his and Meghan's explosive decision to step back from their royal duties, when the British press was viciously attacking Meghan. "I thought my family would help," Harry says in the second episode, "but every single ask, request, warning, whatever it is, just got met with total silence, total neglect."
That feeling of total abandonment had been festering for quite some time. Following Princess Diana's death, when he was just 12 years old, Harry recalled feeling discouraged from speaking openly about his mother's tragic passing and his grief. While Harry attempted to repress his agony, he called the period of his life between ages 28 and 32 "a nightmare," during which he leaned on substances to escape. And among the most dismissive of his struggles, Harry said in the interview, was Prince Charles.
"My father used to say to me when I was younger, 'Well, it was like that for me, so it's going to be like that for you,'" Harry recalled. That doesn't make sense!" he exclaimed, indignant. "Just because you suffered, that doesn't mean that your kids have to suffer. In fact, quite the opposite. If you suffered, do everything you can to make sure that whatever negative experiences that you had, you can make it right for your kids. Isn't this all about breaking the cycle?"
While Prince Charles may have failed to step up when his family needed him most, Harry has certainly gone out of his way to break the cycle. He extricated Meghan and Archie from an institution that failed to protect them, and now, Harry said, "I will never be bullied into silence."