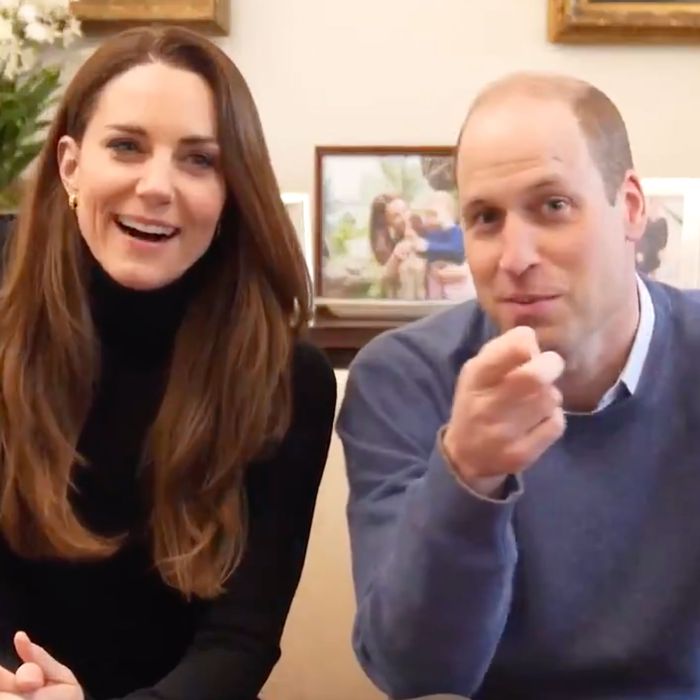 Burgeoning vloggers.
Photo: @KensingtonRoyal/Twitter
According to an anonymous source who recently spoke with Us Weekly, chief defender of the royal family Prince William has taken it upon himself to "modernize some aspects" of the monarchy — to make his royal family "more relatable than previous generations." And how, exactly, does William plan to usher the firm into the 21st century? A new YouTube channel, apparently.
Earlier today, the Duke and Duchess of Cambridge announced the channel with a 25-second video montage, ostensibly edited to emphasize the couple's benevolence and modernity: There's footage of the Duke and Duchess of Cambridge appearing at various charitable events, clapping for the National Health Service amid the pandemic, and chatting with Sir David Attenborough. Bookending the video are short clips of the couple acting just like any other happy couple: William playfully warns Kate to "be careful what you say now because these guys, they're filming everything," and Kate later teases William for unnecessarily rolling his r's. Their rapport: admittedly very cute!
Still, the clip is a little difficult to square with the recent accusations of racism that Meghan Markle and Prince Harry leveled against the royal family in their bombshell Oprah interview — claims that Prince William himself disputed, claiming that the royals are "not a racist family." Between this new YouTube channel and the video William and Kate released last week in celebration of their tenth wedding anniversary, it's hard not to see the announcement as yet another attempt to deflect from the allegations by pushing a rosy vision of the royal family as kindhearted figures who are dedicated to aiding those less fortunate — and not people who might, for example, express "concerns about how dark [Archie's] skin would be."
A YouTube channel, though: indisputably modern!