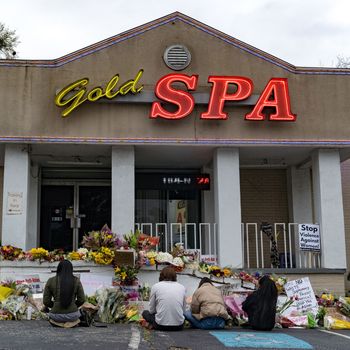 Gold Spa in Atlanta.
Photo: Megan Varner/Getty Images
The lone white gunman suspected of undertaking a string of deadly shootings at three Atlanta-area spas in mid-March has been formally indicted on murder charges, the New York Times reports. While the suspect, Robert Aaron Long, was already facing murder charges in Cherokee County — the location of the first spa, where he killed four people, including two women with Asian heritage — Long is now facing charges in Fulton County, where he killed four Asian women at two separate spas. In a new court notice, filed today, District Attorney Fani Willis says she intends to add hate-crime charges and will be seeking the death penalty.
The possibility that Long could face hate-crime charges is significant, considering law enforcement initially refused to characterize the shootings — which fell against the backdrop of rising violence and discrimination against Asian Americans — as "racially motivated." Following the shooting, Georgia authorities uncritically repeated Long's claim that he targeted the spas because he struggled with "sexual addiction," and he saw the spas as "a temptation for him that he wanted to eliminate."
Under Georgia law, if a person is convicted of a crime such as murder, a prosecutor can ask the jury to determine whether that person was motivated by bias against the victim's actual or perceived minority status. In the court filing, Willis argued that Long indeed committed a hate crime, writing that he targeted and killed the four Asian women at Therapy Spa and Gold Spa because of their race, national origin, sex, and gender. The victims at those two spas were Soon Chung Park, 74; Suncha Kim, 69; Yong Ae Yue, 63; and Hyun Jung Grant, 51.
Long's attorney did not respond to requests for comment from multiple outlets.