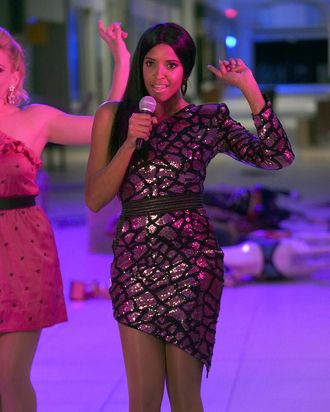 Photo: Heidi Gutman/Peacock
In the first episode of Girls5eva, the titular quintet appears on a vintage episode of MTV's Total Request Live. When asked how they met, Wickie, an icy spotlight hog played by Renée Elise Goldsberry, seizes the microphone and peers directly into the camera. "We've been best friends ever since we auditioned for a man in a motel in New Jersey," she says with total conviction, relieved to finally have a captive audience. Unfortunately for Wickie, Girls5eva's fame doesn't last long, leaving her forever chasing that same high. The other women move on with their lives, but not her.
Girls5eva, now streaming on Peacock, chronicles the girl group's current-day middle-aged comeback bid. The show, created by Unbreakable Kimmy Schmidt writer Meredith Scardino and produced by the likes of Tina Fey and Robert Carlock, is basically 30 Rock meets Popstar: Never Stop Never Stopping, with Goldsberry as its hilarious Jenna Maroney–esque MVP. The Tony winner, who stars alongside Sara Bareilles, Paula Pell, and Busy Philipps, plays a character who's broad, bitchy, and image-obsessed — a tall order for someone who describes herself in real life as "bubbly" and "really nice."
Long before she was a Broadway darling, Goldsberry wanted to be a pop star herself. Instead, she landed a recurring role on Ally McBeal as one of Vonda Shepard's backup singers and saw her career reach unpredictable heights with the original cast of Hamilton. The Cut talked to Goldsberry about living out her pop fantasies through Girls5eva, getting cast as a mean girl, and how her McBeal co-stars readied her for the success of Hamilton.
How did it feel to be asked to play Girls5eva's self-absorbed mean-girl type?
It's funny, I feel like I get cast a lot — or at least a lot more than I would have thought — to play the "she's edgy!" character. Back in the day, I played characters on The Good Wife and other places where I was supposed to be this ice queen. I always used to feel like, Why do I get cast to play these things? And a director friend of mine answered it, actually. She said, "There is something else that will be there if you play it because there's that other part of you that's always going to be there." That's what's so important, I think, when you're playing these really vain, self-absorbed, or even just mean people. If you understand who they are underneath that and why that's there, it's easier to understand them and maybe love them.
What was the "other" thing that you drew on for Wickie?
They gave me this great moment in the pilot that explained everything to me about who she was. I remember saying to my husband, because I'm always thinking at every turn that I'm going to get recast, "If I pull this scene off, I'm home free. I can keep my job." And that was the scene where Wickie admits to Sara Bareilles's character that she has been lying and that she really has nothing. When she says, "I am owed this because of the voice God put in my mouth," that's the root of who this person is. She's not terrible — she just has the burden of this talent and she feels like she's responsible to change the world with it. And she's failing at it! That's hilarious, and it's also tragic. It gives you a reason to root for this very vain person.
Your early career was very theater- and jazz-focused, but did you ever think about the possibility of forging some kind of pop career?
Are you kidding me?! I love that you asked that. "Because you're not a pop star, you must not have tried." And I spit-take in your face. I absolutely wanted to be a pop star. I tried really, really hard.
What did that look like for you?
It just looked like me and every other person that wanted to get into Lilith Fair. It was me with the same acoustic guitar that's been used about five times in 20 years, desperately trying. I love to write music.
I've always said people have to make their own choice about how to navigate their career. We all have dreams when we're starting out, and some people are really purists [and say], "I am a singer-songwriter, and the only thing I'm going to do is sing and songwrite, and if I can't make it doing that, I'll work at Starbucks until you take me seriously and pay me to do this because I don't want to compromise my artistry." And then there are other people that are like, "I'm a singer-songwriter, but I will literally do anything in singing and songwriting to pay my bills, and if that means I'm going to be at Disneyland singing in an animated costume, that's fine." I came up in that camp. And that has brought me all kinds of blessings that are not exactly what I thought I was going to do. I didn't get the record deal, so I ended up on Ally McBeal and in The Lion King [on Broadway]. The beauty is that, full circle, here I am with an opportunity to do those things I tried to do at 20.
On Ally McBeal, you were one of Vonda Shepard's backup singers. On the one hand, appearing on dozens of episodes of a smart, trendy show like that is exciting. On the other hand, I'm sure you were anxious to graduate from being a background character. Was it an enjoyable experience for you?
There's something about being a Black woman singer that means you can do really well and make a lot of money just standing with a couple other Black girls and singing behind everybody else. You can do that forever, and it's a fantastic job. And there's something that's a little painful about it because you could also do that thing that [the lead singer is] doing in front of you. Vonda's one of my best friends, and she's amazing. We actually started out on Ally McBeal singing behind Jane Krakowski, and she's another great friend of mine who I'm a huge fan of. I was, more than anything, grateful for the job because I had to pay my bills. I wanted to go home and write music, and no one was paying you money to write demos to try to get a record deal. When my family asked me "What are you doing?" every five minutes, I could say, "I'm on Ally McBeal."
I got to watch wonderfully talented people become famous in ways that helped me navigate the miracle in my life of Hamilton. If I were only frustrated because I wanted a turn too, I would have missed the value of that in my life. It's exhausting work, it's challenging, it's painful, you get your feelings hurt a lot. You get looked over in really public ways. You fail in front of a lot of people. And it can be lonely, especially for women. And those women that I got to see do that handled it magnificently, and they shared that experience with me.
We have to talk about the songs in Girls5eva. They're so purposefully ridiculous but also great earworms. Did the four of you record together in the studio?
We did. They actually used our voices. I don't know if it was wise. I'll never forget the day we recorded over Sara Bareilles's background tracks for the song she wrote, "4 Stars." I was kind of like, Can we just lip-sync to her? It's so wonderful.
We wasted many, many hours on that set just marveling and laughing hysterically at the brilliant lyrics. How do you balance it? It's gotta be comic genius, but it's also gotta be a song that would actually be a pop song. [The writers] balance so many different plates and saucers, and then they do the tango. That's how good they are. We just sang them over and over again and laughed. The thing about comedy is you're not trying to be ridiculous. You have to take yourself very, very seriously, so when we were in the studio, we were in it.
Did you look at music videos or performances of girl groups that were popular in the early aughts?
I didn't, but you know why? Every minute of my life, that's all I did. I'm so seeped in this time — the '90s in particular. What I learned most on the show is that I never left them and I probably should have. I had no idea that the MAC lipsticks I was using were retro '90s. The same thing with the music and the looks and the way that I sing.
Speaking of that time period, getting to film your own Cribs episode …
I know! No one would believe me! My husband would be like, "What'd you do tonight?" I'm like, "You'll see." It was freezing cold — 2 degrees outside! — and we were in the middle of Long Island somewhere in January. I have no clothes on, and I'm basically pretending that I'm in Venice, California, in the 1990s. It's such a crazy, wonderful experience.
This interview has been edited and condensed for clarity.