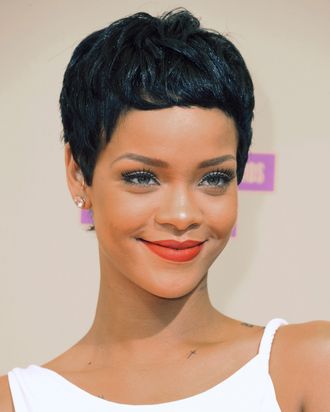 Rihanna's 2012 pixie cut.
Photo: Steve Granitz/WireImage
Rihanna's 2020 mullet had a good run, but it appears the mogul is now strictly rocking business in both the front and the back.
Last night, Rihanna was once again spotted in Santa Monica at Giorgio Baldi, a restaurant she cannot stop going to lately. In place of the long braids, long hair, and long mullet she's been cycling through the past few weeks, she has a brand-new, super-short pixie cut.
If we revisit the storied Rihanna-hairstyle archives, this new chop is a nice nod to the pixie cut she ceremoniously debuted at the 2012 VMAs (see above), back when she was releasing songs that warranted the creation of music videos. That memorable cut, which she paired with a red lip, made everyone say things like, "Short hair, don't care!" It joined her onstage to accept the biggest award of the night for "We Found Love," ft. Calvin Harris.
Rihanna's not one to straight-up repeat, so naturally, the 2021 Rihanna Pixie has a few edits and its own vibe. It appears to be even shorter all around, with wispier, piece-y bangs up front, something other bangs may want to aspire to be as the season of sweaty-forehead swampiness draws near. If you too are thinking of trimming your mullet's party tail and going the completely cropped route, it's worth nothing that a Rihanna Pixie still goes really well with a red lip, and now you can get a Rihanna version of that, too.