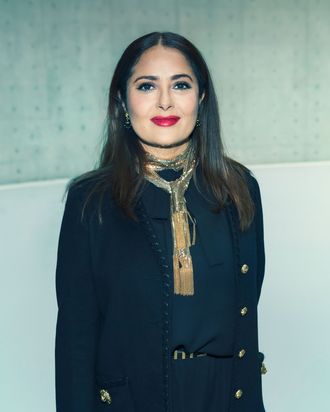 Salma Hayek
Photo: Luc Castel/Getty Images
In a new interview with Variety, actress Salma Hayek revealed that she contracted COVID-19 early on in the pandemic and that the virus nearly killed her.
"My doctor begged me to go to the hospital because it was so bad," Hayek recalled. "I said, 'No, thank you. I'd rather die at home.'"
During her illness, Hayek had to sequester herself to one room of her house, where she remained in self-isolation for seven weeks. (Hayek shares a home in London with her husband, French businessman François-Henri Pinault, and their 13-year-old daughter, Valentina.) At one point during that time, her health deteriorated significantly and she had to be put on oxygen.
While Hayek says she spent "the better part of the past year" recovering from the virus, per Variety, she was able to return to work in April to film Ridley Scott's crime biopic House of Gucci, in which she plays the clairvoyant who conspired with Patrizia Reggiani to murder her ex-husband Maurizio Gucci in 1995. (In other words: In the movie, Hayek helps Lady Gaga kill Adam Driver.) It was "the perfect job to just get back into it," Hayek told Variety, though she noted that she still struggled with fatigue. "I had started doing Zooms at one point, but I could only do so many because I would get so tired." Even now, Hayek is still feeling the lasting effects of COVID: Per Variety, she "still hasn't fully regained the energy she once had."