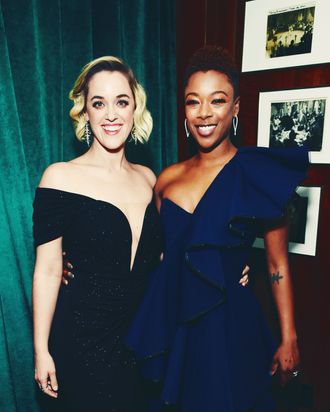 New mothers!
Photo: Michael Kovac/Getty Images for Netflix
Lovely news incoming: Actress Samira Wiley and her wife, screenwriter Lauren Morelli, just celebrated their first Mother's Day! Yes, your deduction is correct. Unbeknownst to all of us, the Orange Is the New Black star and her wife were apparently expecting their first child, and recently, they quietly welcomed their baby into the world.
"Happy 1st Mother's Day to my beautiful wife, who four weeks ago today after laboring for almost 3 days gave birth to our first child — our gorgeous daughter, George💜" Wiley announced on Instagram, alongside a photo of George's tiny hands clasped around her and Morelli's forefingers. "Welcome to the world, baby girl. We love you and we thank you for giving us the best 1st Mother's Day two ladies could ask for."
They are "so happy" and "so grateful," Morelli wrote in her own Instagram caption of the same photo, though she added that they are, as you'd expect, "so tired." George's precise birth date is April 11.
What a sweet new addition to the growing portfolio of surprise celebrity babies! Wiley and Morelli exchanged vows in 2017 — after meeting on the set of Orange Is the New Black, where Morelli was a staff writer — and since then, they've been open about their desire to one day have children. In an interview with ET in 2018, Wiley admitted that they "think about" being moms, adding, "We are so happy, so in love."
And now, they have George! A warm, heartfelt congrats.