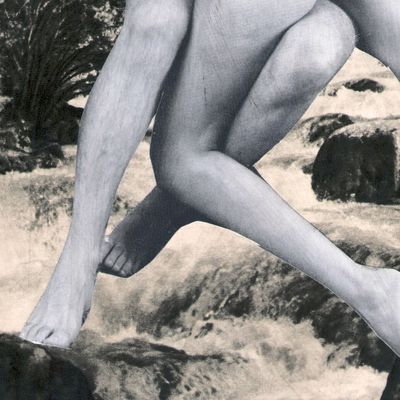 Photo-Illustration: James Gallagher
This week, a man cooking, cleaning, and sexually pleasing his girlfriend on a weekend getaway: 58, in a relationship, Seattle. 
DAY ONE
6:30 a.m. I have a bad case of insomnia that has lasted for months — it's pandemic-stress related, for sure. K, who is 56, is sleeping next to me. She has her earplugs and retainer in. The alarm will go off in 45 minutes, so I put my hand on her stomach, on top of her belly ring, and focus on her breathing. She is just beautiful.
I was married for 30 years and have been divorced for five years. I married the first person I had sex with; we liked each other very much, but we weren't in love. We followed the script of go to college, get a good job, make lots of money, have kids. Once the kids were getting launched we realized it was over.
She has been married twice, once for just a few years, then for more than 20. I honestly didn't think I would find another relationship, especially with someone like her. We met three years ago at a bar. She was there with friends to watch Seahawks football; I was sitting there trying to get through emails. She kept asking me questions, like "What age women do you date? When on a date, do you pay or split the check?" After six months of friendship, she sent me an email telling me it was time to sleep together. She showed up at my house two days later and it was the best sex I have ever had.
7:30 a.m. I'm up and head downstairs to make her coffee and start the day. She is an attorney, and I am a management consultant. We have our own places but since the pandemic I spend three to four nights a week at her house.
12 p.m. She works in her study and I work at the kitchen, on the island. She has her own practice and I have two steady clients who keep me busy but not hectic. I block from noon to 1 to make lunch, empty the dishwasher, and feed the chickens. I know, cue the eyerolls over Seattle stereotypes.
6 p.m. My workday is over. I go to the store to get dinner, stock up on wine, and buy flowers. Pre-pandemic we would eat out several nights a week; it was our way to socialize and connect. I've now become a pretty good cook thanks to YouTube and the NYT cooking app. Tonight is bacon-wrapped scallops, grilled romaine hearts, and red baby-garlic potatoes.
11 p.m. After watching a movie, she heads to bed while I load the dishwasher and clean the kitchen. She usually sleeps in a T-shirt and sleeping pants; tonight, she is naked and there is a note on my pillow: "If you are up in the middle of the night and your dick is hard, I want you to wake me up and fuck me." At about 3 a.m., that is exactly what I do.
DAY TWO
6:30 a.m. Ambien isn't working, but I love that it is getting lighter in the morning. I put my hands on her stomach and she stirs about five minutes later. She grabs my hand and without saying anything guides it between her legs. I make slow circles and she comes quickly. I love getting her off with my fingers — she is wet and loud. We kiss and I head down to make coffee. I change into running gear and run down the hill. It's so weird to see all these cranes in the air without any sense of when people will be in the offices again.
8:30 a.m. Both of our first meetings start around the same time today. I work with tech companies so my attire is workout gear. She comes downstairs in makeup and perfect hair. I've noticed that over the past few weeks, her mood has shifted; there's been a drop in energy. She struggles with depression and I ask her what I can do. Nothing is decided.
1:30 p.m. We both have full calendars, but find ourselves with a half-hour of no meetings. I sit with her in the study and she tells me we need to get away. She says she needs to see water and nature. I spend an hour calling the resort, making lists, and scheduling with the activity center.
5:30 p.m. I have booked a very nice cabin for four days not too far from here. I tell her we are leaving in the morning and everything is set. I spend the evening packing, buying food, wine, and weed.
DAY THREE
10 a.m. Car is packed. K is on the phone finishing up her work the minute we back out of the driveway.
1 p.m. We arrive at the resort. She has worked the entire way up. I drive and think about the next few days. We check in, unload the car. It's raining, but the forecast is for a nice next few days. I clear email and light the fireplace.
6 p.m. The resort is at 25 percent capacity but we are in a cabin that is right on the water. We drink wine and get high. The couple in the cabin next to us comes over to ask about our weed. It smelled really good. I tell them it is called Wedding Cake.
9 p.m. K and I head to bed — weed makes her horny. She has a big, light-blue dildo that she loves to have inside of her while I go down on her until she comes, hard. Then I slide her legs to the edge of the bed and lift her ankles onto my shoulders and fuck her. Hopefully the neighbors are baked on their own stuff and don't hear her; she is not exactly quiet when she orgasms.
DAY FOUR
5 a.m. Change in scenery does not help my insomnia. I get out of bed, change into running gear, and run along the canal for an hour. I flip on the coffee and head to the shower in the downstairs bedroom.
7:30 a.m. Tall coffee cup, stevia, frothed milk, and a bit of vanilla syrup. I bring it upstairs where she is scrolling through her phone. We decide today is work, a kayak ride in the afternoon, and dinner on the porch.
1 p.m. We kayak from the dock to a town about two miles away. The weather is nice, and we stop at a store in the marina. I buy clams, mussels, shrimp, crab, squid tubes, garlic, and halibut. Tonight is cioppino.
3:30 p.m. My workday is done, but she has three more hours. I pour a glass of wine and start to cook. Fireplace already on, music playing, and chopping vegetables and seafood.
7 p.m. Candles lit, rustic bread out, cioppino is perfect. We have our first authentic conversation in weeks. When we met I was two years post-divorce and she had just separated from a 21-year marriage. I am in love; she isn't there yet and keeps saying our timing is bad. She envisioned herself single for a while post-divorce. She has said on multiple occasions that she wishes we met two years later.
10 p.m. Three hours later the upstairs bed is so wrecked that we slept in the downstairs bedroom.
DAY FIVE
7 a.m. We both scheduled for days off. It's Friday, and the plan is dockside yoga, kayaking, a long hike, dinner, and as much sex as we can fit in. We start with sex.
The morning is gorgeous, with the first hope of spring in the air. She gets dressed in yoga clothes and I opt out and sit on the porch. With spring coming, it is so nice to see people together doing yoga with the Cascade mountains as a backdrop. I celebrate with a dash of Jameson in my coffee.
8:30 a.m. Breakfast is served: berries, eggs, bacon, and grilled vegetables. She showers while I clean the kitchen. We are out the door for the boathouse. Kayaking first.
4 p.m. Long hike done. Great conversation. The pandemic has been difficult. When we started to sleep together, she was very forthcoming. She wanted an open relationship. I was fine with that; in fact, it kind of turned me on, but I had no desire to sleep with other women. The pandemic hit and obviously our relationship became closed.
8 p.m. Movie, dinner, weed, and sex. She's exhausted and heads to bed early; I can tell it'll be an insomnia night for me. I open another bottle of wine and go out on the porch to listen to music and watch the stars. Around 11, I see the space station fly overhead. After a while I head upstairs and into our bed, and I turn on a podcast to help get my brain to shut off.
DAY SIX
7 a.m. It's Saturday. No plans. We will take the day as it comes. I like morning sex — it seems like my libido is stronger then. We make love, slowly. She pulls on her workout clothes and I go to make coffee. I go out on the porch and the canal is like glass. I see her on the far dock sitting down next to a couple of guys who have a large boat docked there for the weekend. I smile and am happy for her.
8:30 a.m. She is back and heads to the shower. I stay in my sleeping clothes and call the kids. I have three in college and she has two. K has been incredible with my kids. I moved her daughter into college and cried as if she were my own.
9 a.m. I text friends to check in and make a list of things to do today. She comes downstairs, her hair still wet, and tells me it was nice to "get her flirt on."
1:30 p.m. Hike is done. We have sex again. She comes four times, once with my fingers, once with my mouth, and once with me standing on the side of the bed with her legs over my shoulders, and again with my mouth. I remind myself to tip the housekeeping staff very well.
3 p.m. We grab our tablets and the rest of the afternoon is reading on the porch, more wine, charcuterie, and conversation. She is browsing Match.com. It makes me a bit sad and anxious about the future because the pandemic has helped me realize my bond with her is very strong.
When the pandemic shut everything down, I made a list on a notecard of the people I was going to focus on: K, my three kids, her two kids, my parents, and her parents. I check in with them every day, I send pandemic care packages, flowers, or notes. Out on the porch I distract myself by ordering things for everyone on the list.
9 p.m. I make grilled steaks with balsamic glaze, grilled romaine hearts, grilled red potatoes. We opt to sit outside again by the fireplace on the porch. We talk about travel, work, plans for our last day, and my conversations with the kids. She gives me one of the nicest compliments I've ever received: She says she told her girlfriends that on this trip she didn't have to make a single decision, and that she has always had to do the planning, but I had focused on her. She says she felt loved and listened to.
DAY SEVEN
11 p.m. Checkout time. I pack and load the car while she sits on the porch absorbing the mountains and preparing for reentry. She seems so much better. I resolve to redouble my efforts to monitor her mental health and stress. I also book flights for her kids to come visit as a surprise. She needs family.
3 p.m. Back home at my townhouse with K.
4 p.m. I pour wine, put a movie on for her while I check on the chickens, get laundry started, and run to the store for groceries and flowers.
6:30 p.m. Dinner is takeout, and we binge-watch a series. I put her on the couch while I rub her feet and just relax. I look forward to bed in a few hours and getting to hold her as she falls asleep.
Want to submit a sex diary? Email sexdiaries@nymag.com and tell us a little about yourself (and read our submission terms here.)