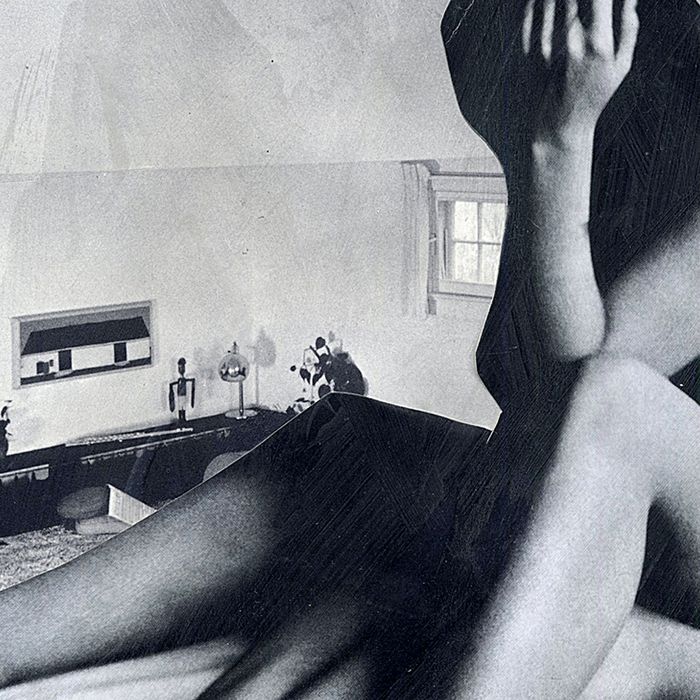 Photo-Illustration: James Gallagher
This week, a woman enjoying life as a "sapiosexual" and splitting her time between Hawaii, Portland, and Los Angeles. 
DAY ONE
6 a.m. There is a rooster crowing outside my Hawaii boyfriend's condo in Kona. We met online, which is how I meet most of my partners.
1 p.m. We do a puzzle in his living room wearing nothing but our underwear. He's shirtless in pale-yellow boxers. I wear red strappy lingerie with my butt hanging out, but he's so into the puzzle, he barely looks up.
8 p.m. I try to get his attention by pulling on the straps of my thong. When I release them, they make the sound of a rubber band snapping against my hip. He looks up, grins, and whispers "cute" before turning back down to connect two puzzle pieces in front of him.
10 p.m. I push him onto the couch. He flips me, kneels on top, and holds me down, tickling me until I cry actual tears. I straddle his lap and tie his hands together with an extension cord. I turn the lights low and give him a lap dance. He watches bemused, not exactly turned on but entertained. When the song starts to close, I rub my pelvis in circles on his lap. He gets hard. I am a squirter so I grab two beach towels out of the bathroom and drape them over the couch. He rides me from behind as we do it doggy style and then fall asleep to the sound of the ocean.
DAY TWO
6 a.m. It's my last day here and I'm slowly waking up. We try to spend a week each month together, alternating visits at one of my houses in San Fransisco or Portland and his in Kona. I don't like the idea of four more weeks until I see him again, but here we are.
8:30 a.m. I go to the living room and FaceTime my husband, Keith, who's recovering from a gallstone surgery back home in PDX. He's jaundiced but happy. We opened our marriage nine months ago and for three of those, he's been in love with a woman, M, who just this past week, finally said "I love you" to him, after months of unrequited love. I love that Keith and I both run at love unabashed, recklessly, without regard for protecting our own hearts.
11 a.m. Hawaii and I hold hands as we run into the ocean. Underwater, we bite each other's legs like we are sharks and then eat açaí bowls at the beach café.
1 p.m. I'm sad when he drops me off at the airport. He's the most dominant man I've dated and I appreciate how aggressive he gets.
6 p.m. I FaceTime with Craig, a man I've only recently started dating. He's a self-described plant daddy and nudist. As we talk, he touches himself. He's naked, watching TV and relaxing after a long week wrapping up work on a consulting project. We make plans to have dinner at his house on Monday and he tells me about how he's going to get pegged by two women in his poly group tomorrow night. I'm stoked for him.
DAY THREE
6 a.m. I send nudes to Keith, Craig, and Hawaii. I send them all the same ones because my butt looks extra bouncy. My friend says reusing nudes is cheating but I just see it as efficient.
12 p.m. This weekend I'm leading a 14-hour teacher training to get new pole-dance instructors up and running at the three studios I own in the Bay Area. Having new instructors will mean more time for dating and building new studios out of state.
1 p.m. On our lunch break, I ask Craig to send a video of himself masturbating. He loves being watched but is very consent-oriented and won't send them of his own volition. That said, he always comes through fast. I prop my phone up on the gymnastics mats in the studio and watch as I eat sushi.
6 p.m. I haven't touched my husband in a week. When I get home, I make him lay on me and feel his heart beat on mine. When his weight becomes crushing, we get up, eat dinner, watch TV, and talk. We both agree we feel like our truest selves in an open marriage. He's happy that I love Hawaii and I'm happy for the new developments in his relationship with M — but we are each other's Ground Zero. I've done my share of divorce cases as a (mostly retired) attorney, so I don't have any illusions about love always lasting forever. Statistically speaking, our marriage will end someday but for now, we are each other's rocks, the person we go home to.
DAY FOUR
6 a.m. I wake up with an ache in my right kidney and it hurts when I pee. I take a UTI test, but it's negative. Keith and I drive to get coffee and a wave of nausea overtakes me. I start to sweat and get overheated. When we get to the coffee shop, I lay down on the parking lot pavement and let the cold press against my belly. Keith takes me to the ER. They test me and it's a bladder infection.
10 a.m. They give me antibiotics and tell me to take probiotics, avoid sex for four days, and to drink lots of water. I know I will only be able to do two of those three things but regretfully push my date back with Craig to Tuesday so I can give my body an extra day to recover. My kidney hurts but I still go to work.
12 p.m. I eat lunch with Allison, my co-teacher and best friend. I tell her about my bladder infection. "Maybe just have less sex with less people," she says. It's reasonable advice, but I don't want to. I just turned 38 and I've never been so horny in my life. I want sex all the time. And in the SF Bay Area poly scene it is so easy to procure. I am surrounded by interesting, smart, and emotionally intelligent people. As a sapiosexual, brains not bodies turn me on. And there are so many good brains here.
6 p.m. The antibiotics are working. The ache in my kidneys is gone.
10 p.m. When I sleep, I dream of having a threesome with Keith and Hawaii.
DAY FIVE
12 p.m.  I'm in back-to-back meetings with my studio managers all day but get 20 minutes to call Hawaii. It's only been three days since I left Kona but I miss him.
3 p.m. I daydream of me, Keith, Hawaii, and Craig living in a house together, my own version of happily ever after.
9 p.m. I get home late from teaching at the studio. Keith and I watch Mad Men and eat chicken-satay salad and broccolini for dinner. I have two drinks and a weed gummy and soon, I am too frisky to not jump on my husband.
9:30 p.m.  I hold down his hands on the couch and bark orders at him. Lick me. Pinch me. Bite me. When I bite him back, he gets annoyed. He knows there's only one way to chill me when I get like this. He pulls me to the bedroom and pushes me onto the bed. He eats me out, fingers me. He's worried about my bladder infection and refuses to have penetrative sex, which is fine.
10:30 p.m. We cuddle and I fall asleep in the crook of his arm.
DAY SIX
10 a.m. I have a chill work day so I catch up on my "stable" — what Hawaii calls my collection of sex friends whom I track in a sex spreadsheet. I have a bad memory so I keep it to make sure I don't forget anyone.
6 p.m. I meet Craig in his building's lobby. In his apartment, we watch the fog roll in as he prepares a picnic tray with rice wafers, pepper olives, Gouda, and dark chocolate. We talk about the rise of the surveillance state. That he cares about the fragility of democracy turns me on.
8 p.m. After I eat all the chocolates, we abandon the picnic for his bed. We take our own clothes off and he fingers me how I like it — pounding and aggressive — stopping only to whisper-ask "Is it too hard?" Each time, I shove his fingers back into me. Two hours later, I have come seven times, him once.
DAY SEVEN
6 p.m.  My friend Daemon picks me up at LAX, where I'm spending the next two days for a work trip. When I get in his Mazda, his cheeks are flushed as he hands me a square of dark chocolate. He's radiant as he tells me about his new girlfriend. He calls her "my creature," which I think is the absolute cutest. He shows me a picture of her cosplaying in a Harry Potter outfit. "She wants to do a threesome with you," he says and I nod. I want that too.
7 p.m. As we put our stuff away in our Airbnb, he gets a twinkle in his eye. I like watching the gears turn in his brain. I can see him consider throwing me down on the bed, which he does. I brace for it. He spreads my legs open and eats me out as I shriek with glee at the way his whiskers tickle my inner thighs. I love that he is all fast-twitch muscle fibers, a cheetah.
8 p.m. He carefully measures us half doses of ketamine and then we walk to the Venice pier, spinning each other around and laughing hysterically. Growing up in the Midwest, I always knew I would become a California woman. I spent so many years yearning for that. As Daemon pulls me up to my feet and swipes the sand off my dress, the moment is meta. Here I am.
Want to submit a sex diary? Email sexdiaries@nymag.com and tell us a little about yourself (and read our submission terms here.)